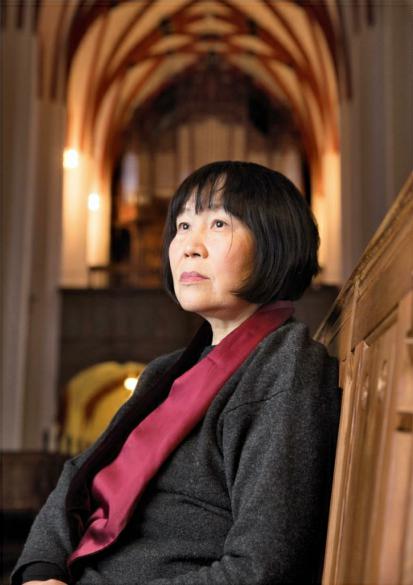 So far, Zhu Xiaomei has given more than a hundred concerts in the churches. She said Bach, though composed for the churches, is actually a worldly music. [Photo/Agencies]
An old servant of Bach
Zhu always calls herself an old servant of Bach.
"Bach is the companion for a lonely soul; it is a friend that never betrays you. I simply cannot not play it," Zhu said, adding that Bach is the first thing she turns to whenever she feels lonesome or sad, as it can always derive in her a sense of security.
Having been playing Bach for more than 25 years, Zhu said she never gets tired of it – she simply wants to play Bach for literally everyone who loves it.
The church is the place where Zhu loves to play Bach most. She has given over a hundred performances in the churches in Europe – "the church is a place that can calm me down". But she doesn't think that Bach is religious music. "It is most worldly, as Bach is the music about life," she said.
"Bach is a genius who is able to compose multiple parts of music in harmony. We may not hear each other if we talk at the same time, but that's not the case for Bach. The multiple parts are complementary, they have different characters, but they can magically stay in tune."
In Zhu's words, the polyphony of Bach gave her another perspective of life - that everyone's opinion should be valued, and the powerful cannot monopolize the right to speak. "For artists, especially, it is very important to guard the rights of the underprivileged," she said.
Once, Zhu travelled to places in Germany – Eisenach, the city where Bach was born; Ohrdruf, the place where Bach was adopted after his parents passed away; Arnstadt, where Bach got married; Leipzig, the city where Bach composed the Goldberg Variations and died.
Having been to such places, Zhu felt once again connected to the great musician. "In Goldberg Variations, Bach composed his life into the music. It is about his life, about ours, about everyone," Zhu said in the documentary.
As the only one to have played at the tomb of Bach, Zhu said she felt grateful for Bach. "The 30 chapters of Goldberg Variations are also the 30 chapters of my life, a life that includes both the inferno and the kingdom of heaven," she said.
"People should also be grateful for Bach - who understands human nature more than Bach?"