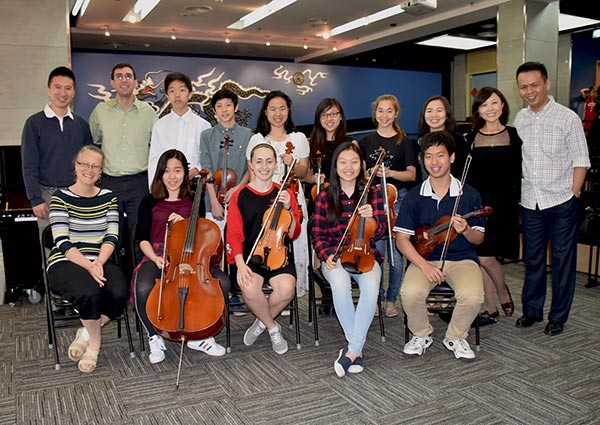 Camerata Music brings classical music festival to Beijing's international community. (From right) Gao Xiang, founding art director and Lily Ge, founder and executive director of Camerata Music. [Photo provided to China Daily]
Renowned classical musicians joined in for the Camerata Music Festival on Sunday at the International School of Beijing.
Founded in the expat community in Beijing's Shunyi district, the festival aimed to provide classical live music and specially tailored workshops in international school. The inaugural concert was titled A Romantic Evening in Europe on Sunday.
The concert featured chamber music masterpieces by Sarasate, Dvorak, Brahms, Vivaldi and the Chinese premiere of 6ixwire's compositions.
The festival's founding art director, Gao Xiang, is a world-renowned violinist and performing artist and educator, who presented the concert with other accomplished musicians.
Founded by Lily Ge, Camerata Music is a Chinese government-registered nonprofit arts organization that brings acclaimed programs offered in major concert venues worldwide to the international residents of Beijing.
"The international community in Beijing has a strong need for high-quality live classical music and authentic music education for children, but there is a lack of such resources," says Ge. "That's the reason we founded the organization and the festival."
"Privately funded music festivals are popular in the communities of well-educated residents in Europe and the US. Through such music festivals, the value of classical music can inspire young generations and the sense of responsibility as community member can be strengthened," says Ge.
Related:
Festival gift for Wagner fans in China