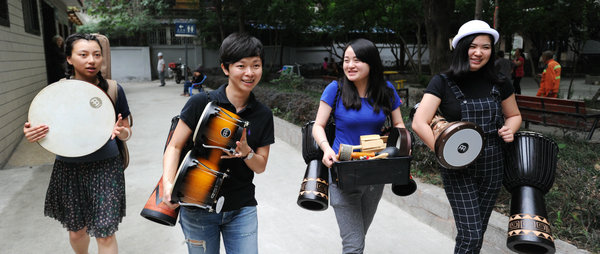 Music therapist Wang Lujie (second from left) and her colleagues are on their way to a session in Chengdu, Sichuan province. [Photos by Yu Ping /China Daily]
A government program is seen as helping lonely elderly and children in need, Huang Zhiling reports in Chengdu, Sichuan province.
Nearly a dozen elderly men and women sat in a circle shaking maracas and beating bongo drums while three young women musicians hummed a song. After the song had ended, one of the older women asked guitarist Wang Weijia to create a song about a grandmother and her granddaughter.
Having thought for while, Wang came up with a song about how a grandmother bought paper and a painting brush for her granddaughter to make an artwork.
The men and women in their 60s and 70s applauded in appreciation of Wang's wit.
The scene was from a hall of the Yulin Donglu Neighborhood Committee in Chengdu in Southwest China's Sichuan province, where people gathered last month for a music therapy session offered by the Yueling Center for the Development of Philanthropy, a rare organization in the area that specializing in such therapies. The center was set up two years ago by Wang Lujie, a 31-year-old teacher from Sichuan Conservatory of Music.
A native of the province's Dazhou city, Wang Lujie started to play the piano at age 5, and studied the instrument in Sichuan Normal University from where she graduated in 2006. At the time, Beijing's Central Conservatory of Music began to recruit postgraduate candidates for their music therapy courses.
"When I was a sophomore, I had a rare disease in my right arm which would be detrimental to my career as a pianist," Wang Lujie told China Daily at the Chengdu event. "So, I applied to Central Conservatory of Music and became a candidate for their music therapy program."
Before she got her master's degree, Wang Lujie had served as a volunteer for a month in the aftermath of a devastating earthquake in Sichuan's Wenchuan county in 2008. She and her classmates from the central conservatory tried to offer some relief with their music classes to young children at camps for the victims.
She recalled a particular 6-year-old boy whose mother had died in the quake. And while the traumatized child wouldn't speak with other people until after two months of the quake, he liked attending the classes. When he became familiar with Wang Lujie, he cried aloud one day, finally narrating the story of his mother's death. "Having talked about the incident, he may have felt better," Wang Lujie said.