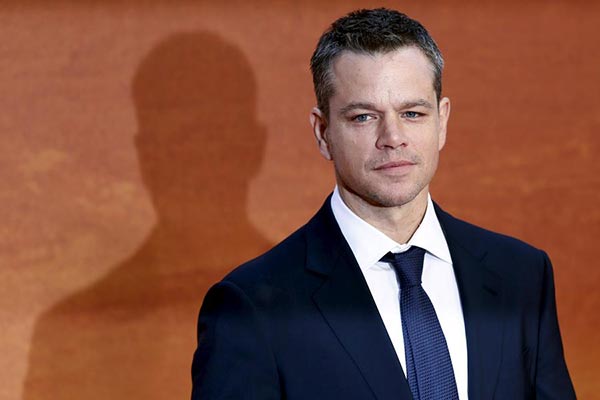 Actor Matt Damon arrives for the UK premiere of "The Martian" at Leicester Square in London, Britain, Sept 24, 2015. [Photo/Agencies]
In the latest sci-fi blockbuster "The M
art
ian," China plays a critical role in aiding an American astronaut who becomes stranded on Mars. Were it to happen in real life, the
film
's producer Simon Kinberg is confident China would act in the same way.
"I'm very optimistic about it. A passage in the original novel says that the 'fundamental human nature is good.'"
"That's the reason why (in the movie) China, Europe and America would come together to save one person stranded hundreds of millions of miles away," he said in an exclusive interview with Xinhua.
"The Martian" hits theaters in China on Wednesday. It stands out for its optimism and humor, as most science fiction movies tend to explore darker themes.
"Science fiction movies tend to be edgier, more distopic and cynical about the world. There's nothing wrong with it. But 'The Martian' as a book and then as a movie stands out, because of that intelligent optimism and that sort of humanity," Kinberg said.
Unlike movies that rely on CGI (computer-generated imaginery) and are shot in front of a green screen, filming for "The Martian" was done on an actual set, which included a detailed replica of a spacecraft. Director Ridley Scott elected to shoot the Mars scenes in Jordan's Wadi Rum area, which features a red-tinted rocky desert landscape.
"It was very important for Ridley to feel real. So he did something that's almost radical and revolutionary, which is to shoot Mars in the desert of Jordan," Kinberg said.
Kinberg said performing in front of a green screen and letting the computer fill in the blanks wouldn't have felt as immersive.
"It wouldn't have felt like you were being dragged into that world."
Kinberg's other projects include three of the "X-Men" films, including "X-Men: Apocalypse," which is slated for release next year. He said he sees the possibility of more Chinese roles in the future of the franchise.
"There're a lot of characters in the X-men universe that are Chinese or Chinese American characters. As we continue to tell more stories and expand the universe of the X-men, I'm sure there'll be more Chinese characters," he said, adding that such casting decisions would be done solely from the standpoint of what is best for the story.
One of the X-Men films -- "Days of Future Past" -- stars Chinese actress Fan Bingbing. Fan plays Blink, a mutant who can create portals that allows her to teleport herself or others.
The last two X-Men films were shot in Montreal, but Kinberg said he's open to the possibility of shooting some scenes in China in the future.
"It's absolutely possible. if there was a storyline that will take the story through China, it will be great," he said.
Related:
'The Hunger Games: Mockingjay - Part 2' tops box office