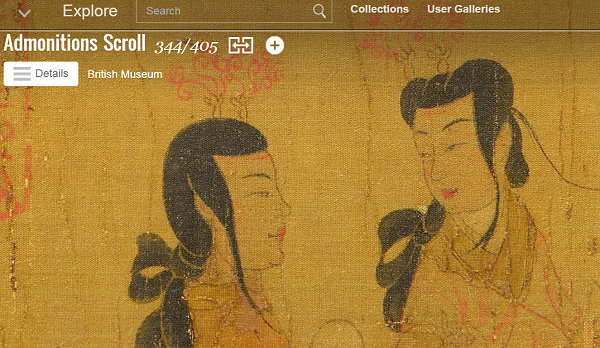 Admonitions Scroll (detail). [Screenshot of Google Cultural Institute site]
Fans of the British Museum are now able to avoid the crowds to enjoy some 5,000 high-resolution images of the museum's collection online, including the prestigious Chinese painting Admonitions Scroll, thanks to the Google Street View technology.
The Admonitions Scroll is one of the most important paintings in the world. It was originally painted by Gu Kaizhi (about AD 345-406), regarded as the father of classical Chinese figure painting. The scroll's full title, Admonitions of the Instructress to the Court Ladies (Nüshi zhen tu), indicates the work's moralising tone. In the scroll, the protagonist, the court instructress, advises the ladies of the palace on correct behavior.
The original painting is now lost, and the scroll made during the Tang Dynasty (618-907) and now kept by the British Museum is the closest copy and thus has become visitors' must-see artwork. However, this antique is now so fragile that it can only be seen for a few months of the year at the museum.