Macaroon chef takes eager kids to his sweet spot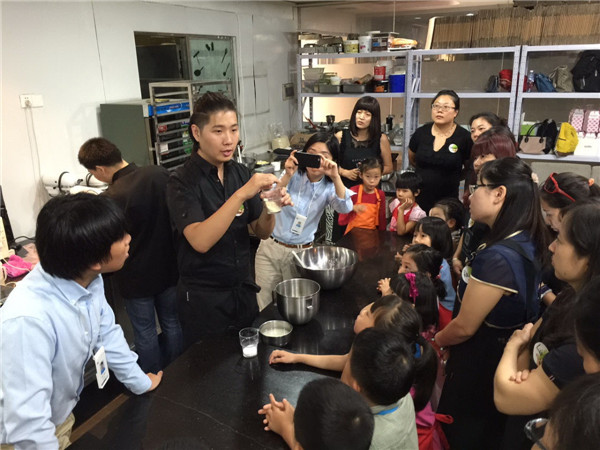 Yu Fan, pastry chef at Gateaux& Cadeaux. [Photo by Mike Peters/China Daily]
For pastry chef Yu Fan and his wife, this day is perhaps a taste of things to come. They have a year-old infant at home, but today they really have their hands full: A dozen primary-grade Chinese students from a Beijing language academy have swarmed their shop, Gateaux & Cadeaux, for a lesson in making macaroons.
The French-trained Yu smiles from the walls in a series of photos with mentors such as Olivier Bajard. His rock-star mane of black hair from those days is now reduced to a petit ponytail that seems both more chic and more kitchen-friendly.
His introduction for the kids starts in the retail shop. Little round gems of sweet pastry in ice-cream hues gleam from the display cooler. Next to it, mysteriously, is an ornate gramophone, a record player from a bygone century, and a bottle of expensive red wine perches next to the gadget's shiny brass trumpet.
While most macaroons we eat today are sweet, he explains, that wasn't always so. Back when a royal patissier would whip up these tasty morsels for French kings and their courts, he says, the little cookie sandwiches were filled with savories like salmon or foie gras.
"Foie gras was especially popular at Christmastime for a salty stuffing in macaroons that were served with excellent French wines," he adds. "These rare flavors were luxurious, for very fancy parties."
"Foie gras?" a small voice asks.
"Goose liver," translate teachers Alicia Ye and Chen Huangchao.
Yu, of course, knows this gang of 5- to 8-year olds didn't come here to eat goose liver, fancy or not.
"The most popular taste is the butter-cream stuffing, the sweet flavor," he says, waving the kids back into the kitchen. "That's what we're making today."
Yu and his team take the youngsters through the process step-by-step. The batter is just sugar and almond powder, Yu says. "No flour." Adding flour will give the cookies a smooth surface, which some pastry chefs like, he says, but that's wrong.
The kids nod sagely. "No flour," they repeat to each other.