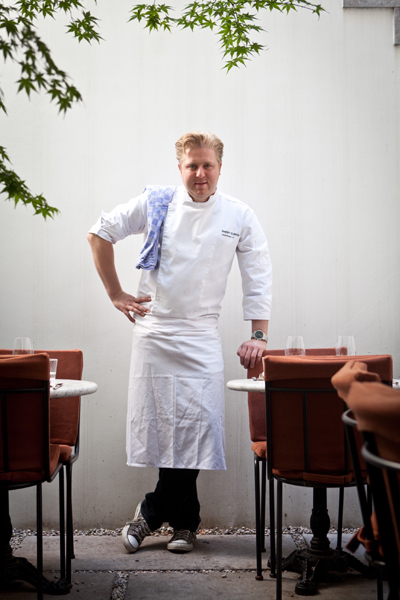 Chef Seppe Nobels. Photo provided to China Daily
Visiting chef Seppe Nobels' blue eyes light up with excitement when he is asked about his morning at Jingshen Hai-xian Shichang, the capital's busiest fish market.
"The fish were all alive," he says, grinning. "Amazing! At the markets in Europe, they are all dead."
He was similarly thrilled by a swing through the market stalls of Sanyuanli, where chefs from Beijing's top restaurants can be found pinching tomatoes and sniffing bunches of cilantro with grunts and satisfied sighs.
"At my restaurant in Belgium, all of my cooking is centered around vegetables," he says later, while preparing the menu for a special one-night-only dinner at Temple Restaurant Beijing held on Saturday.
"The produce here I find is very high quality. Some very different things for me here, nice to prepare. Wonderful radishes-so many kinds. Beautiful bok choy, which we are using today. And some wild broccoli-really amazing."
All this from a fellow who is rather picky about his veggies. Nobels, in fact, was recently honored as the vegetable chef of the year for the Benelux countries of the Netherlands, Luxembourg and his native Belgium.
"I start to create every dish with vegetables," he says, "then add fish and meat as needed."
Many chefs limit their approach to vegetables by parboiling in salted water or simply steaming, he says. "I like to grill them, like a barbecue. And pickle them. Or salt and bake them in the oven like you would a seabass. I like to try all different ways to prepare them, even if it's a method usually considered to be for meat.
"I only use local ingredients, what is in season. In my country, for example, we have beautiful fish from the North Sea. Why should I fly in a tuna from Japan when we have fish like that at home?"