Global chefs meet for Chinese food cook-off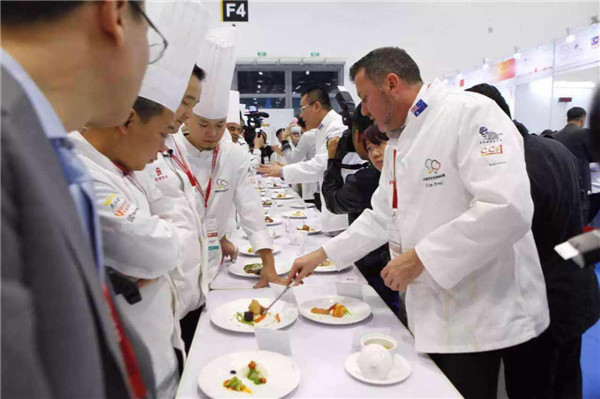 Chefs from around the world present their dishes to compete during the Chinese Cuisine World Championship. [Photo provided to China Daily]
Willment Leong is among the top chefs in Thailand, specializing in French cuisine. But his most recent trip to Beijing was for the Chinese Cuisine World Championship, which was held last week with contestants from 16 countries and regions, including the United States, Italy and South Korea.
The competition, initiated by the China Cuisine Association to be held annually, is the only international Chinese cuisine competition recognized by the World Association of Chefs Societies, a global network that promotes culinary excellence and education. It was groundbreaking in the way that it adopted rules and standards suiting characteristics of Chinese cuisine for judges to rate the contestant teams, according to Jiang Jun-xian, president of the China Cuisine Association.
In the past, Chinese chefs had to succumb to competition rules and standards that are made for the Western culinary art, if they wanted to compete at an international competition, Jiang explains.
"The competition will make Chinese cuisine a stronger presence on the global culinary scene," Jiang says.
Leong, an A-level culinary competition judge rated by the World Association of Chefs Societies, and a director judge of the new competition, says the panel of 16 judges from East and West paid great attention to features of Chinese cuisine and sought advice from locals as they scored contestants' cooking techniques, dish presentation and hygiene.
Most of the contestants, although from different countries and regions, were of Chinese origin.
Leong, who is vice-president of the Thailand Chefs Association and the founding chairman of the Thailand Culinary Academy, observes that Chinese cuisine doesn't have a high status globally as it should have, and it is confusing to many foreigners because it has too many subtypes that differ greatly from each other.
Moreover, some people have the impression that Chinese cuisine is not as healthy as French cuisine, because it processes ingredients extensively and uses a lot of sauces and pastes, Leong says.
To promote Chinese cuisine globally, Leong suggests, it is better to start with easy, basic dishes that focus on ingredients, such as Peking duck, rather than heavily processed dishes, to interest foreign diners to explore and discover more Chinese delicacies.
Leong says he thinks Huaiyang cuisine, a style of Chinese cuisine that is characterized by light flavor, exquisite presentation and fresh ingredients, will appeal to many foreign palates, especially those who seek healthy eating.
He also says he hopes to see more Western faces in Chinese-cuisine competitions.