Lull in luxe liquor may be blessing in disguise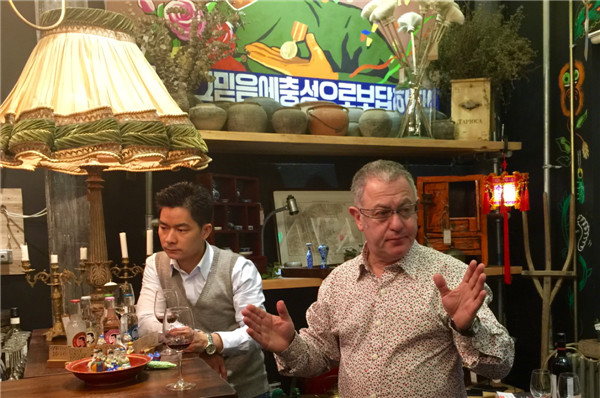 British winemaker and writer Robert Joseph talks about boosting China's wine culture.[Photo provided to China Daily]
Recent news reports suggested that consumption of expensive alcohol may be showing signs of life, after shipments of cognac from France to China jumped 42 percent in the first nine months of 2015. Those figures from industry association BNIC presumably brought smiles to the boardrooms of liquor giants like LVMH Moet Hennessy Louis Vuitton and Remy Cointreau SA, but managers of high-end restaurants and bars in Beijing tell China Daily they aren't seeing a bump in their sales yet.
That French brandy, presumably in Chinese warehouses, is seen as a bet on better times in 2016.
Meanwhile, some grape growers in China's Ningxia Hui autonomous region have reported having trouble selling all of their 2015 harvest-even though this vintage is predicted to be a stellar year.
The luxury-liquor market largely cratered after the government launched its campaign against extravagance and corruption in 2012, when banquets and lavish gifts were targeted.
While many in the industry are still weeping over lost sales, winemaker Robert Joseph sees a long-term silver lining.
"President Xi Jinping may have squashed the banquet and gifting business," Joseph tells China Daily during a recent Beijing stopover to present his Le Grand Noir (Black Sheep) series of wines. "But when the rebound does come, it will be people who are buying wine and buying liquor because they actually like to drink it. That's really a market you want-not people who are buying expensive boxes and putting them on a shelf somewhere."
Joseph is a longtime British wine writer who cofounded the International Wine Challenge in 1984 and penned more than 25 books on the topic before taking up winemaking himself 10 years ago in France. He shared a few other thoughts that the mainstream industry might consider heresy.
"France may have 'gotten China right' at the beginning-it's done an amazing job of marketing the country and marketing wine here-but it's not getting China right now," he says. The problem is that the old formula isn't working anywhere, even in France, where 46 percent of the population doesn't drink wine at all. "That figure was inconceivable a generation ago," he notes.
In China, where Joseph has been coming for 28 years, finding rich customers who will order 1,000 bottles of Lafitte is no longer a workable model, he says.
Joseph also thinks foreign winemakers should resist trotting over to China and proclaiming that their vintages "pair well with Chinese food". From people who are perceived as sophisticates, he says, such comments fall somewhere between naive and insulting.
"There is a huge range of Chinese food, just as there is American food or French food. So do they mean their wine goes well with Cantonese dishes? With Sichuan? What do they mean?"
Beyond the enthusiasm of importers, he adds, China's wine culture can be boosted by making more wine available by the glass in restaurants, and by encouraging a culture of bring-your-own-bottle, or BYOB, here.
While wine-pairing dinners are valuable to promote the culture of drinking wine with food, he says, it can be counterproductive and too fussy to overemphasize this.
"You go to a dinner party, the host says, 'I've made this new salmon dish, and I've chilled a really nice sauvignon blanc that will match well with it.' A guest says, 'Oh, I brought a fresh, bright red I've discovered that I wanted to share with you.'
"What happens?" Joseph asks rhetorically. "Both bottles get opened. Both are drunk with the fish. Nobody dies from drinking the wrong wine with the fish," he says with a grin.
The good news, he says, is that the Chinese customer of the future will be someone who actually likes wine, is more and more often a woman, and appreciates quality enough to pay a premium for it, without reaching for exorbitantly priced labels.
"Imagine a generation of wine drinkers who choose based on the fact that they like the label, the flavor and the price," he says. "Quite intelligent, really."