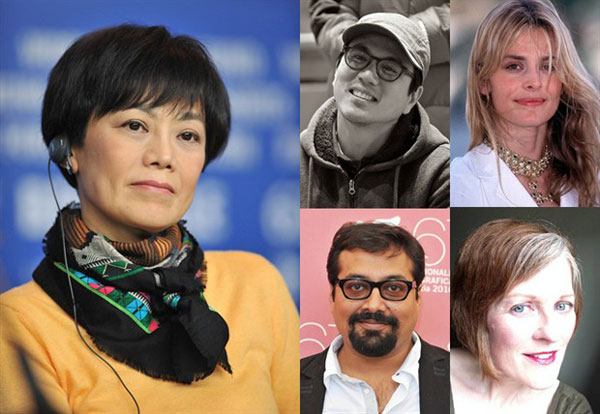 The New Currents Jury of this year's Busan International Film Festival, which are Sylvia Chang (left), Kim Tae-yong (left on first row), Anurag Kashyap (left on second row), Nastassja Kinski (right on first row) and Stephanie Zacharek. [Photo/Mtime.com]
South Korea's 20th Busan International Film Festival (BIFF) has announced that iconic actress and filmmaker Sylvia Chang will lead this year's New Currents jury.
The Golden Bear-nominated film 20 30 40, which Chang directed and acted in, was screened in Busan in 2004.
Joining Chang on the jury is South Korean director Kim Tae-yong, whose films include Memento Mori, Family Ties and Late Autumn.
Indian director Anurag Kashyap, whose critically-acclaimed works include Black Friday, is also part of the judging panel.
German actress Nastassja Kinski, whose films include Roman Polanski's Tess and the chief film critic of the Village Voice Stephanie Zacharek make up the rest of the jury.
The jury will award $30,000 each to two films in the competition for new Asian directors.
The Busan International Film Festival will run from Oct 1-10 with the Asian Film Market running from Oct 3-6 this year.
Related:
'Lost' movie brings home horror of occupation