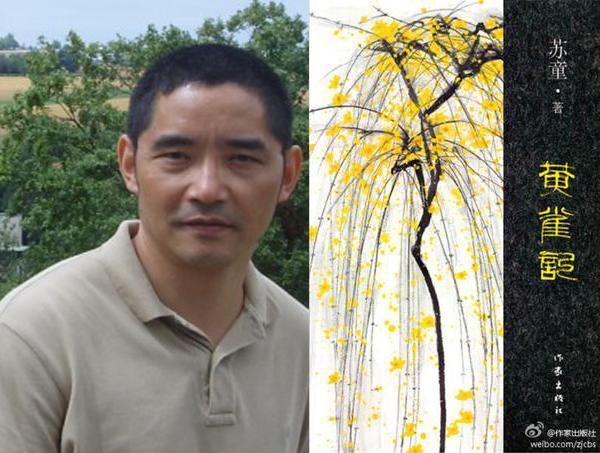 Su Tong and his Huang Que Ji (Siskin)
The 9th Mao Dun Literature Prize, one of China's top literature awards, announced its winners on Sunday.
The winning novels and their authors include The Jiangnan Trilogy by Ge Fei; Zhe Bian Feng Jing (Unique Landscape) by Wang Meng; Sheng Ming Ce (A Record of Life) by Li Peifu, Fan Hua (Blooming Flower) by Jin Yucheng; and Huang Que Ji (Siskin) by Su Tong.
There were as many as 252 novels competing for the prize this year, including works from renowned writers like Jia Pingwa, Wang Anyi and Yan Geling.
The nominee list, released on Aug 12, includes five shortlisted novels, Bei Qu Lai Ci (Going to the North) by Lin Bai; Storm in Kalabu by Hong Ke; Jerusalem by Xu Zecheng; Wu Xue Wu Tu (My Blood and My Country) by Fan Wen; and Huo Zhe Zhi Shang (Beyond the Living) by Yan Zhen.
Chen Xiaoming, a judge from the judging panel and a noted literature critic, says that, "It's quite difficult to choose a winner among the works, as they are almost equally excellent. We needed to compare meticulously and repeatedly to make a decision."
Among the winning writers, the 81-year-old Wang Meng got his first Maodun Prize with his novel Zhe Bian Feng Jing (Unique Landscape), which he began writing during the 1960s and 1970s and finished in 2013.
Chen Xiaoming says the novel Zhe Bian Feng Jing has rather comprehensively reflected the multi-national life of the country and is a quite rare in Chinese literature.
He also comments that Fan Hua (Blooming Flower) by Jin Yucheng is in a plain and traditional narrative style, but has very rich underlying meanings.
The novel, written in the Shanghai dialect, has been regarded as a "black horse" in literature circles since its publication in 2012.
The Mao Dun Literature Prize has a history of more than 30 years since its launch in 1982. It was held every four years and each winner is awarded as much as 500,000 yuan ($78,200).