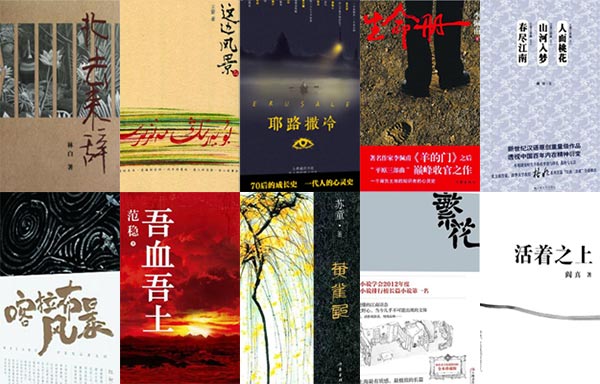 Cover of ten works nominatd for 9th Maodun Prize for Literature. [Photo/chinadaily.com.cn]
The 9th Mao Dun Prize for Literature jury has released its nominee list after the fifth round of voting on Wednesday.
The novels nominated include Sheng Ming Ce by Li Peifu; The Jiang Nan Trilogy by Ge Fei; Bei Qu Lai Ci by Lin Bai; Fan Hua by Jin Yucheng; Zhe Bian Feng Jing by Wang Meng; Huang Que Ji by Su Tong; Ka La Bu Storm by Hong Ke; Jerusalem by Xu Zecheng; Wu Xue Wu Tu by Fan Wen; and Huo Zhe Zhi Shang by Yan Zhen.
There are no works on the list by writers who have won the prize before. For example, Piao Chuang by Liu Xinwu, winner of the second Mao Dun Prize for Literature, though sent for appraisal, has not been nominated. This shows the jury's special attention on China's emerging writers.
Mao Dun Prize for Literature, one of China's top literature awards, has a history of more than 30 years since its debut in 1982. This year's work collection starts from March 15 and ends on April 30, with 252 novels meeting the qualifications for appraisal, around 70 more than last year. With no more than five being awarded, the competition is described the most brutal this year.
Related:
Is Secret Garden losing its magic?