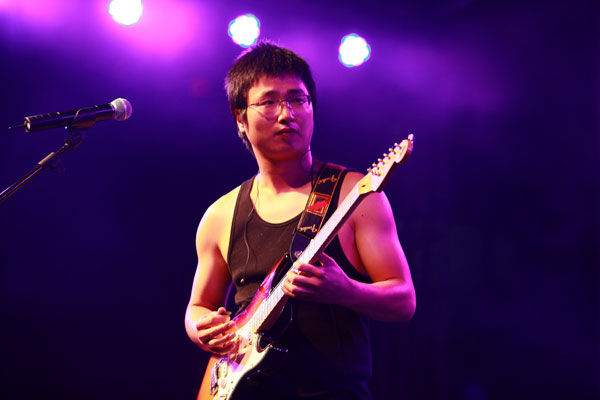 Li Zhi, folk singer-songwriter. [Photo provided to China Daily]
Li Zhi is one of the few singer-songwriters in China who can quickly sell out tickets to each of his concerts. But he has never performed on TV, rarely does interviews and always keeps a low profile.
During the past 10 years, he has been exploring ways of being an independent folk singer-songwriter by relying on social media to spread his music and interact with his fans.
Li held a news conference in Beijing in early April to launch his upcoming national tour, titled Kan Jian (Seeing). Starting in Shenzhen on May 23, Li will perform in five cities, including Beijing, Shanghai and Wuhan.
Li showed to the media a photo depicting him half-naked, a tattoo on the center of his chest in the shape of a Chinese map. The photo seems to hint at his ambition to conquer the country.
"Press conferences are so not my style. But lots of my friends encouraged me to have one, as a way to celebrate my 10 years in the music scene. So I wanted to give it a try," says the Li, 37, said at the recent media event.
He has nearly 200,000 followers on micro blog Sina Weibo.
Since 2004, Li has released seven albums, including the newest, 1701, which was played online more than 2.5 million times within a week of its debut in November.
Li first rose to fame on Douban.com, a popular Chinese social networking website. His folk tunes and poetic lyrics about his personal life and observations about society won him thousands of fans online.
With an entrepreneural spirit, Li established his own team to promote his music. His concert on Dec 31, 2014, sold an unprecedented 3,600 tickets within 13 minutes. The concert was also webcast live with more than 100,000 people paying to watch.
With the Internet revolutionizing the music industry worldwide, Li promoted himself internationally, and his songs can be purchased on iTunes and other platforms.
Li has stirred some controversy with his comments about the current music scene in China.
"People take it for granted that folk and rock singer-songwriters should cater to a minority taste and lower their tickets price. I don't think so," says Li.
Tickets for his national tour cost as much as 880 yuan ($142).
He adds that there are few independent singer-songwriters in the music industry "because their attitude and spirit are not independent".
"An independent singer-songwriter should have a clear understanding of his music and his audience, rather than counting on images designed by the record companies," he says.
He adds that his idols are Cui Jian, Chinese godfather of rock 'n' roll, and rock singer-songwriter Xu Wei. "Being real to myself is the core of being a singer-songwriter, no matter you are in China or anywhere in the world."
Born in Jintan city, Jiangsu province, Li bought his first guitar in 1995 at age 17. In 2004, he borrowed 5,000 yuan from his friend and made his first album, The Forbidden Game. One of his songs, Mr Van Gogh, was a big hit after its release in 2007.
"His melody and lyrics are good but his singing technique needs improving. I believe what makes him special is the realness in his music," says Lao Lang, a famous Chinese folk singer.
Li now lives in Nanjing, and says the city inspires him.
"It's a shame that I have not written any good lyrics in a long time. I will go back to Nanjing after the tour and think about it."