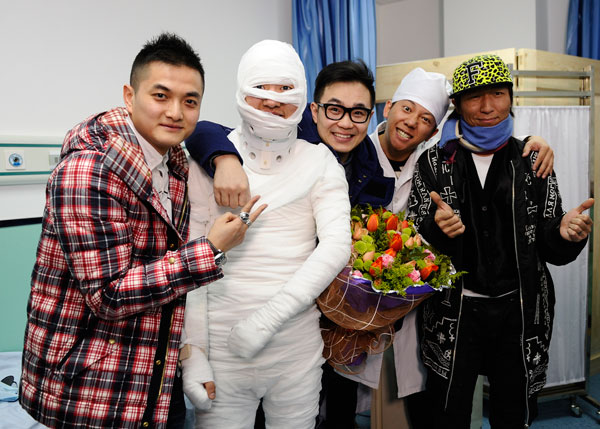 From right: Chen Yufan and Hu Haiquan, members of the popular rock duet Yu Quan, participate in Sohu's latest reality show Secretly Greatly. Chun Wan / China Daily
While they face a shortage of talent, they tend to borrow experienced people from overseas, especially from South Korea, Asia's long-standing entertainment industry hub.
Youku Tudou, China's another leading video website, announced in Seoul on July 14 a joint production, Guest House, with one of South Korea's biggest TV channels, SBS. In the program, 10 Chinese fans will be selected to spend five days traveling with members of Super Junior-M, one of Asia's most popular bands.
In June, Youku Tudou also commissioned the production team behind Running Man, one of South Korea's most popular reality shows, to make God and Goddess, a reality show that follows the process of regular people being trained to become pop stars.
Borrowing foreign formats is nothing new. Since 2006, Chinese TV stations have been buying program formats from Europe and the United States. The format is a detailed set of information about the idea and structure of certain programs, and instructions on how to make them.
There have been more than 50 authorized reproductions of foreign programs on Chinese TV, including the popular Voice of China series. The United Kingdom and the Netherlands are the main suppliers, but since early 2013 there has been a sharp increase in the number of program formats from South Korea.
Shanghai-based Dragon TV, Zhejiang TV and Hubei TV, all among China's top 10 satellite channels, have South Korea-originated programs. All of them are outdoor reality shows - the genre is the forte of the South Korean TV industry.