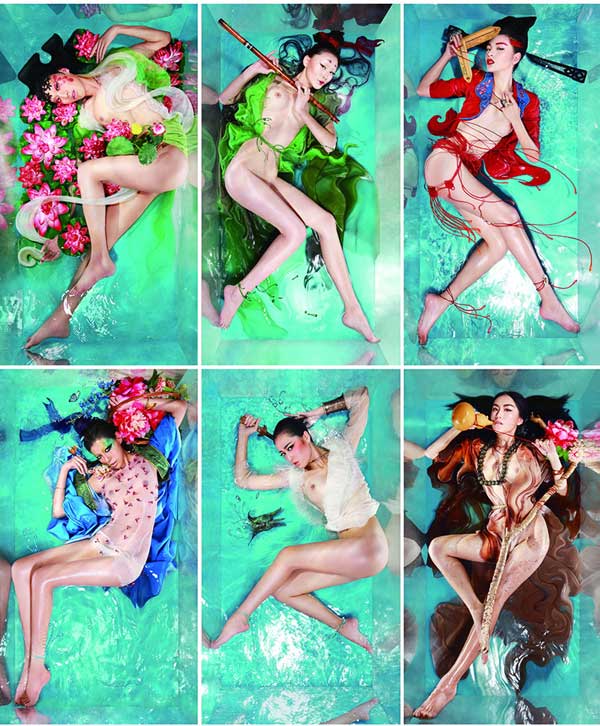 Fairies, photographs by Ren Xinyu from the Guangzhou Academy of Fine Arts, are on display at the same exhibition. [Photo/China Daily]
Exhibitions of works by young, aspiring artists are on the rise, allowing art lovers to see the next generation's creations. But critics say such early exposure can be damaging to the development of the work. Lin Qi reports.
With a growing number of young people pursuing a career in art, there has been an up-tick in the number of exhibitions and art fairs, especially around graduation season, as these aspiring artists seek public exposure.
The Realm of Advaita is one such attempt to bring outstanding art school students and recent graduates into the public eye.
Launched in 2006, and held by the non-profit Today Art Museum, the annual exhibition presents nearly 200 artworks and gives a number of awards for exceptional works in various categories.
The judging committee say this year's theme encourages participants to reflect upon their experiences and open their minds. They hope to present a vibrant landscape of Chinese contemporary art that differs from older generations, such as the so-called cynical realism movement, which is deeply influenced by pop art and Western aesthetics.
This year, the exhibition displays a preference for installation, photography, video and new media art, showing more than 51 works, far more than the works in conventional categories such as painting, print and sculpture.
"Practice is always ahead of theory," says Zhang Gan, deputy director of the Academy of Art & Design, Tsinghua University and member of the judging committee. "An artist should not bother with what style his works fall into or which school he belongs to. He only needs to create the best art to the best of his ability."
The exhibition is one of many launch pads for promising artists. Art Nova 100 will hold a grand exhibition at Beijing's National Agriculture Exhibition Center from Aug 16 to 18. The art project, launched in 2011, promotes 100 artists every year and tours exhibitions across the country.