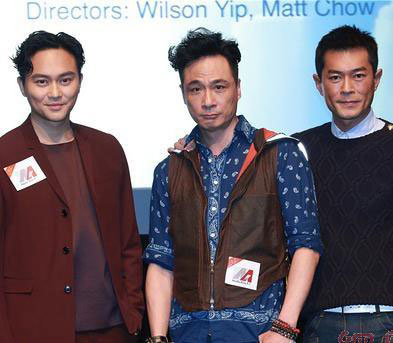 Francis Ng, Chilam Cheung and Louis Koo show at the commencement of shooting of the Film Version of "Triumph in the Skies". [Photo: 89to.com]
The big-screen adaptation of Hong Kong's high-flying hit TV series, "Triumph in the Skies," has been cleared for take-off.
An announcement from the show's official Sina Weibo account confirms that production began on the movie version of the airline drama yesterday.
The drama revolves around an aviation team working for the fictional Solar Airways, which is based on the Hong Kong-based Cathay Pacific airlines.
Initially aired in 2003 by Television Broadcasts Limited, the show's second season premiered last year. It also became the broadcaster's highest-rated series of that year.
The title's movie adaptation will star lead actors Francis Ng and Chilam Cheung. Joining the airborne crew on the big-screen is renowned Hong Kong actor Louis Koo.
The film version of "Triumph in the Skies" is slated for release later this year.