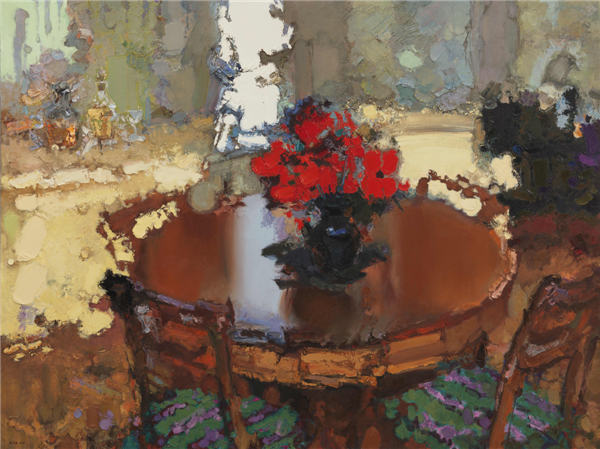 Red Flowers on Table, by Zhang Jingsheng in 2013, is displayed at the My Homeland, My People exhibition in Jinan. Provided to China Daily
Ever since Chinese artists started to paint with oil a century ago, they have been exploring how to translate the Western art
form in the context of their own culture.
Today, a large number of artists work with oil, and their approaches vary from the realistic to the abstract. Their techniques are more mature, and their works sell well in galleries and at auctions.
An ongoing exhibition at the Shandong Art Museum critiques the dynamics and problems of Chinese oil painting, addressing issues such as the repositioning of oil painting and the core spirit of painting.
My Homeland, My People, an exhibition series reviewing modern and contemporary Chinese oil painting, brings its last show of about 247 works, including dozens of landmark works from museum collections to Jinan, capital of Shandong province.
The show opened on July 25, marking the anniversary of the death of Zhu Naizheng (1935-2013), an artist and educator who spent much of his career establishing the vocabulary of Chinese oil painting.
Zhu launched My Homeland, My People five years ago to curate exhibitions and academic forums in six cities that represent different cultural features of China.