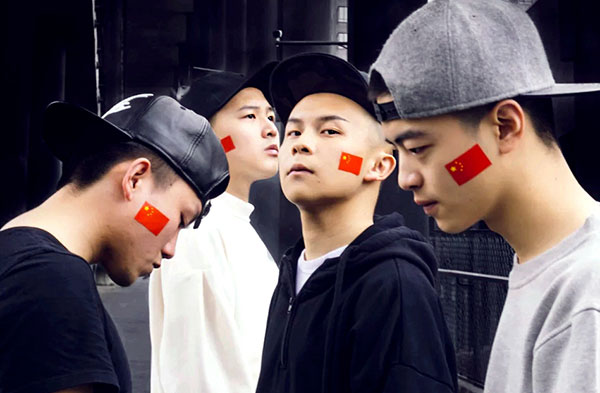 Chengdu-based rap group CD Rev has become an internet sensation with This Is China.[Photo provided to China Daily]
CD Rev, a rap group from Chengdu, Sichuan province, is expected to release a new single, This Is Our Generation, in October, a sign of the rising popularity of using rap to explain China to the outside world.
The group's earlier song, This Is China, became an online sensation after it was released in June.
This is China, in which group members talk about why they love the country, has been viewed more than 10 million times. The four-member hip-pop group also has about 100,000 followers on Sina Weibo, China's Twitter-like social platform.
"Regardless of all the prejudice in the past, today I wanna restore the impression you have on my country, China." So begins This Is China, which touches on issues that China faces, such as air pollution, food safety and corruption, and declares: "We love the country. ...The red dragon ain't no evil, but a peaceful place".
Some viewers have commented on how they are impressed by the group's musical talent. Others say it is laudable that the group speaks the truth about the country's problems while remaining patriotic.
For the upcoming single, CD Rev has gathered six additional rappers, representing six Chinese cities, to spotlight the country's youth.
"Our goal is not to become big stars or celebrities. What we want is to set good examples of the post-1990 generation, members of which will become China's driving force," Wang Zixin, the band's 23-year-old singer-songwriter, told China Daily over the weekend.
Hip-hop bands such as Dragon King, a Beijing-based trio, will perform on CD Rev's This Is Our Generation.