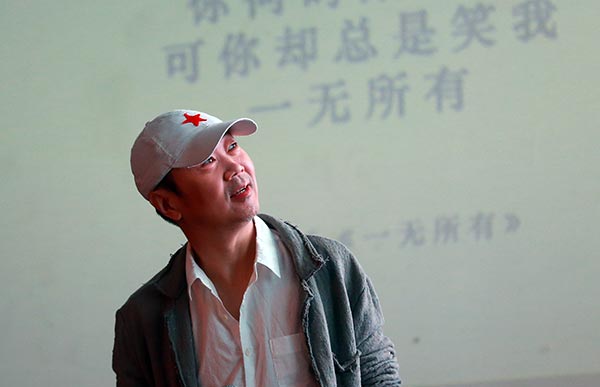 Cui Jian will hold a concert Rolling 30 at Beijing Workers' Stadium on Sept 26 to mark the 30th anniversary of a performance that made him famous. [Photo y Zou Hong/China Daily]
On May 9, 1986, Cui Jian was invited to perform at a concert at Beijing Workers' Stadium.
At the packed venue, the then 25-year-old Cui performed Nothing to My Name.
That song opened a chapter in China's rock music story at a time when few Chinese knew what rock 'n' roll was.
The song also marked the start of a journey, which would later make Cui China's godfather of rock 'n' roll.
Now, 30 years later, to mark that event, a concert, titled Rolling 30, will be held at the same venue where Cui first performed that song.
When the concert was announced in Beijing recently, his fans were ecstatic.
Zhang Youdai, a veteran DJ, who was the host of the press conference in Beijing, says: "When Cui blew our minds with his music in 1986 I was a freshman at the Central Academy of Drama.
"Now, decades later, I organize live shows at universities, which is a way to pay tribute to Cui."
It's always important for singer-songwriters to get close to young people and get their feedback.
Speaking of the 1986 performance, another of Cui's fans, Zhang Jin, who was then studying at Peking University, says: "I was there when Cui performed that song in 1986, and now I am standing next to him."
Zhang, who was at the press conference, and who plans to be at the upcoming show with his university classmates who were at the 1986 concert, says: "Over 100 students from Peking University, who were rocked by Cui's music 30 years ago, plan to come in from different parts of the world to attend the concert. He is a reminder of what it was like when we were young."
But unfazed by the adulation, Cui, 55, wearing his trademark white cap with a red star on it, says he is "the biggest beneficiary of the song".
He makes that point when he says: "When you compare it with my other work, Nothing to My Name is not the best I have done.
"But thanks to that era, when young people needed that kind of energy and the message delivered by that song, it became a hit and I became famous.
"The song is a collective memory. But I prefer to remind people about the other songs I have written," he says, referring to songs, such as Rock 'N' Roll on the New Long March, and Greenhouse Girl.
Meanwhile, another reason why Cui is excited about the upcoming show is because he will be performing with Stewart Copeland, the drummer of the legendary rock band, The Police.
Speaking of the upcoming show, Copeland says in a video he recorded in Switzerland for the press conference: "I am very excited to be in China for the first time, not just as a tourist but also as a part of Cui's concert.
"It will be an amazing experience for me to learn about the country by playing with the artist.
"I can't wait to be there. I have so many questions about China."