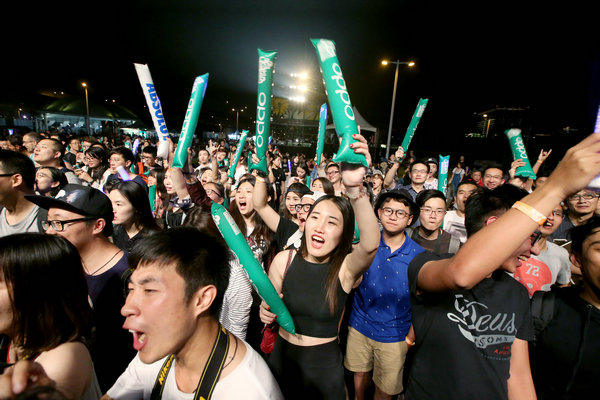 Fans cheer for Dou's performance in Taipei in April. [Photo/China Daily]
She has dedicated the song Lola to her younger sister, Li Yan, who is the daughter of Faye Wong and her second husband, Chinese actor-turned-entrepreneur Li Yapeng.
Dou Jingtong also delivers her take on individuality in the song, Blue Flamingo, where she says, "Pink is good, pink is well, but I got my eyes on my blue flamingo".
"Artists are self-centered. I don't know how to describe my music. You just listen to it and have your own ideas," she tells a bunch of reporters.
Growing up with her grandmother in Beijing, Dou Jingtong has been exposed to a variety of music, thanks also to her aunt, Dou Ying, her father's younger sister and a singer.
"My early memories of songs were those played by my aunt in her car, like songs of Michael Jackson," she says. "I am drawn to different sounds, such as people's voices. I listen to voice messages over and over again."