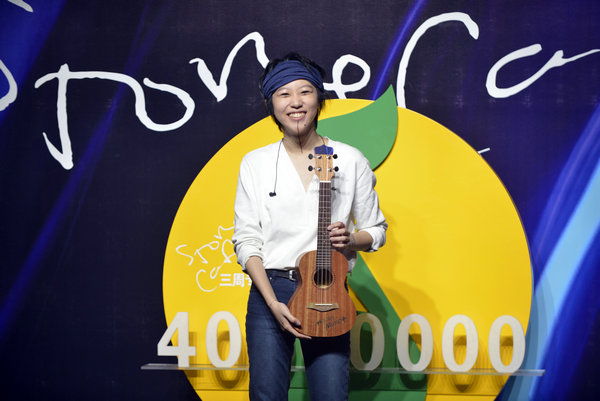 Dou Jingtong plays her recent gig in Beijing's 798 Art Zone. [Photo by Jiang Dong/China Daily]
Released in digital format on QQ Music, a platform of Chinese internet giant Tencent, the album has been heard more than 40 million times within three weeks, setting a record for Chinese musicians.
"It's a miracle for such a young Chinese, who just released an album and sings in English, too," says Andy Ng, general manager of Digital Media Service of QQ Music, adding that the company has launched a new project, Music Plus, to support young talents.
On China's music scene, Dou is a rare emergence. Fans are impressed by her silky voice and singing style that mixes electronic, alternative rock and other elements.
The daughter of pop star Faye Wong and rock veteran Dou Wei, she has been living under the limelight since childhood.
Her mother, a Beijing-born singer who rose to fame after moving to Hong Kong in the late 1980s, is one of the country's best-selling female artists.
Her father, a former lead vocalist of legendary Beijing rock band Black Panther, is a musical genius to China's rock lovers.