Culture is the crystallization of a nation's wisdom and it has the power of crossing national boundaries as well as time. Economically, China has been playing a more important role in the whole world, and meanwhile, Chinese culture is also taking steps to introduce China to the world. In 2015, various activities in different forms have been held aiming to strengthen deeper communication between China and other countries. The activities held in 2015 such as overseas "Happy Chinese New Year" and "Symposium on China Studies", and the construction of China Cultural Centers, all prove to have promoted cultural communication and have also received worldwide recognitions and praise. Let us have a short review of the important cultural events that happened in 2015.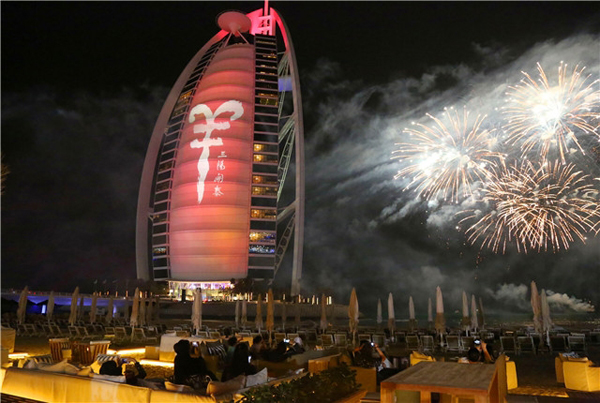 Dubai's Burj Khalifa is lit up in red to celebrate Chinese New Year. [Photo/Xinhua]
2015 overseas Happy Chinese New Year activities
During the sixth Happy Chinese New Year in 2015, over 800 programs were staged in more than 320 cities in 118 countries and regions.
Happy Chinese New Year activity programs adhere to branding development strategies and they provide various audiences all over the world with sub-brand activities such as "Image China", "Square Celebrations", "Just Share It" and "Worldwide Spring Festival Gala", which have received worldwide commendations. Meanwhile, those activities strive to strengthen cooperation with other nations, extending foreign cooperation and continuing to introduce Chinese spring festival cultural products to the world.