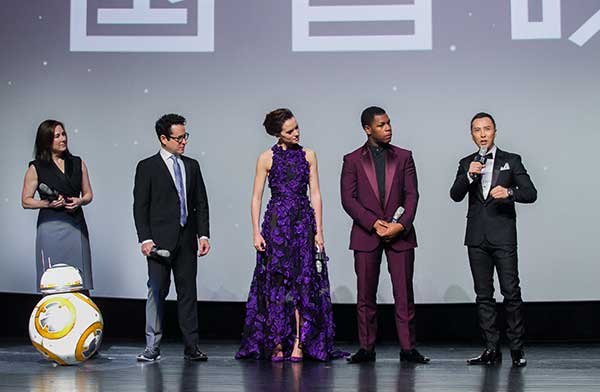 Chinese actor Donnie Yen (far right) with cast and crew members (from left to right) producer Kathleen Kennedy, director J.J. Abrams, actress Daisy Ridley and actor John Boyega at a promotional event in Shanghai for Star Wars' latest installment Star Wars: The Force Awakens.[Photo provided to China Daily]
For historical reasons the world's foremost sci-fi franchise has a gigantic blind spot. But a new venture could relaunch it into the hearts of Chinese filmgoers, says Raymond Zhou.
When my American friends talk to me about Star Wars, it usually takes me a long time to explain to them why their favorite sci-fi franchise has not caught on in the Middle Kingdom the way it has in the rest of the world.
The biggest piece of the puzzle lies in 1977, the year the first installment debuted. That was right after the end of the "cultural revolution" (1966-76). There were sporadic mentions of the runaway hit in the Chinese press as I remember, but I did not get to see the film until the early 1980s when it was screened for a limited audience as part of an American film festival. There was a palpable feeling of disappointment-or ennui at best-among college students and teachers.
The reason was simple: The 1980s was a time of reckoning and reflection. Most Chinese who went to see foreign fare at the cinema wanted serious drama that dealt with grave social issues. We were not ready for entertainment and we did not care much for the then revolutionary special effects. In other words, we were the polar opposite of what Chinese filmgoers are today.
The Empire Strikes Back was aired on some city channels in 1988, but television sets had not yet reached every Chinese household and the most popular shows back then were Hong Kong kung fu series, which had mammoth fictional worlds of their own, such as adaptations of Louis Cha novels.
The 1990s changed the equation when video discs introduced a century of world cinema to a huge audience base. When Star Wars: Episode I-The Phantom Menace was released in China in 1999, it was exactly 22 years-approximately one generation-after a global whirlwind was whipped up by the original movie. Film attendance in China was at the peak around 1980, but Star Wars was not available to make the all-important first impression, and even if it had, judging from public reaction to other Hollywood sci-fi movies that found their way to China then, it would probably have been met with a lukewarm reception. And when China emerged as a market juggernaut in the late Noughties, the new wave of moviegoers showed little interest in a franchise that should have wowed their parents-had their parents been living in another country, that is.
The mismatch between a cultural product's timing and its audience's mentality could not be more poignant if you study the popularity of Hollywood franchises such as Harry Potter, The Lord of the Rings, Transformers, The Avengers, X-Men and other superhero series. They all arrived in China in the new century. Though Transformers can trace its roots to the television cartoon shown on the Chinese tube in the 1980s, nostalgia-oriented viewers make up a fraction of today's growing audience, which has an average age of 21. To sell Star Wars to this demographic would be like selling them their grandfather's Oldsmobile.