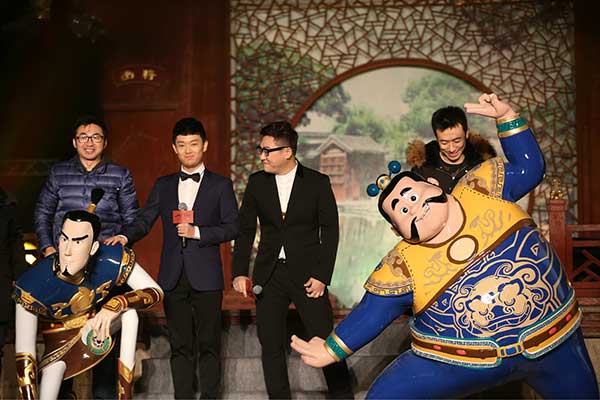 A scene from Little Door Gods featuring the elder brother of the door gods duo who checks a hint left by his missing younger brother.[Photo provided to China Daily]
Chinese mythology typically depicts a "nian" as a lionlike creature that lives under the sea or in the mountains. And once each spring, on or around Chinese New Year, it comes out of hiding to attack people.
But in a new animation feature, the "nian" shows up in the human world as heavy smog covering the sky.
When this scene in Little Door Gods appeared on screen at a Beijing preview before the film's Jan 1 nationwide release, members of the audience burst into laughter.
It is little touches like this in the film-which focuses on old traditions and modern concerns-that has won the 103-minute fantasy movie critical acclaim.
Up to 160 animators from Beijing-based Light Chaser Animation spent two and a half years to produce the 1,940-take movie, which is now widely regarded as having "scaled new heights" in the country's animation film sector.
For the movie's director and scriptwriter Gary Wang, the inspiration for the film came from his interest in "little figures" and a dying culture.
As Wang says: "Many of the traditions cherished by older generations have vanished. Door gods is one of them.
"I was curious about how a celestial being would respond if he is no longer worshipped by humans," says Wang as he explains why he went ahead with the project.
"I have always had more of an interest in grassroots gods as compared with great gods, such as the rulers of heaven. The struggles of these little figures have always fascinated me."
It is traditional during the Lunar New Year, or Spring Festival, to place
painting
s or statues of menshen (door gods) on or in front of doors to drive away evil spirits. But in recent years the tradition has almost vanished due to rapid urbanization.