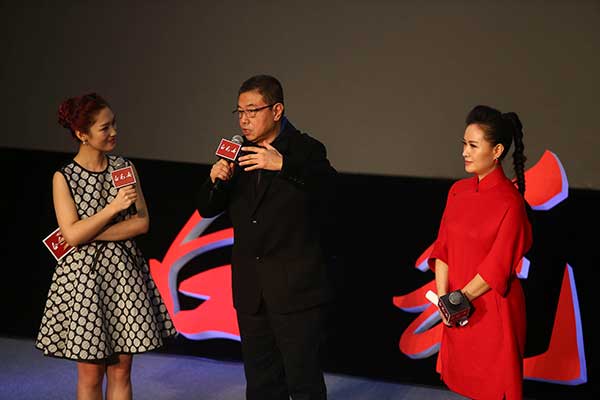 The new film The White Haired Girl is directed by Hou Keming (center) and stars Lei Jia (right).[Photo provided to China Daily]
The Chinese have been familiar with the lyrics of the revolutionary opera, The White Haired Girl, for the past seven decades or so.
Now, the tale of the miseries of farmers in the late 1940s is a new cinematic remake and, more impressively, it comes in 3-D.
The film The White Haired Girl will be released in major mainland cities early this year and will later be screened in rural areas, according to its producers. A debut date has yet to be announced.
As a milestone play in the history of Chinese theater, the classic opera caused a sensation when its earliest edition debuted at the revolutionary base of Yan'an in 1945. Inspired from local folklore, the story centers on the sorrows of Xi'er, a young woman from a humble background in Northwest China's Shaanxi province.
As the daughter of a poor peasant, Xi'er is forced to hide in the mountains to escape the persecution of a greedy, cruel landlord. During her time in hiding, the shortage of nutrition makes her black hair turn white. The founding of New China in 1949 gives her a second chance to live a normal life.
The film's storyline is similar to that of the original opera and aims to make audiences feel like they are "watching a real-time stage show", says the film's director, Hou Keming, who is also a professor at the Beijing Film Academy.