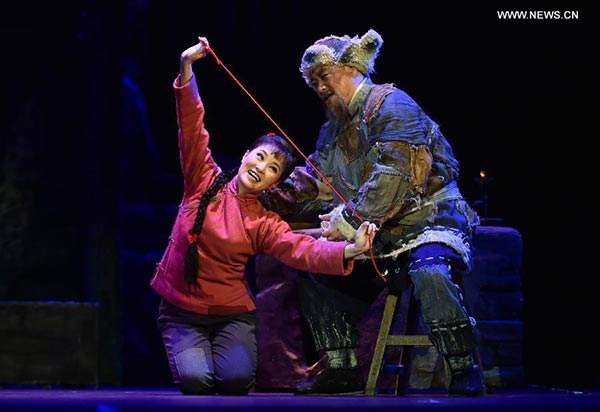 Opera The White-Haired Girl is performed in Guangzhou, capital of Guangdong province on Nov 23, 2015. The opera, first staged in 1945, has been one of the country's revolution-era classics for 70 years. [Photo/Xinhua]
A 70-year-old opera The White Haired Girl has greeted audiences once again with a 3D makeover in Beijing over the weekend.
The opera is based on a legendary Chinese folk tale about a girl named Xi'er, daughter of a poor farmer in Shaanxi province. Her father was forced to sell her to his landlord. Xi'er escaped and hid on a mountain after her father committed suicide. Due to the extremely hard living conditions, Xi'er's hair turns completely white. She was later rescued and got married, as her hair turned from white to black again.
The White haired girl debuted in 1945 in Yan'an. It soon became a hit not only for its moving story but also for its unique mixture of Chinese and Western opera styles.
A number of actresses have portrayed the lead character over the decades, including Chinese First Lady Peng Liyuan. She is also the artistic director of the 3D opera.
It is the first time that a Chinese opera has been presented on the stage in 3D, heralding 3D art piece for Chinese operas.
Related:
'The White Haired Girl': 70 years on
The White Haired Girl completes national tour after successful run