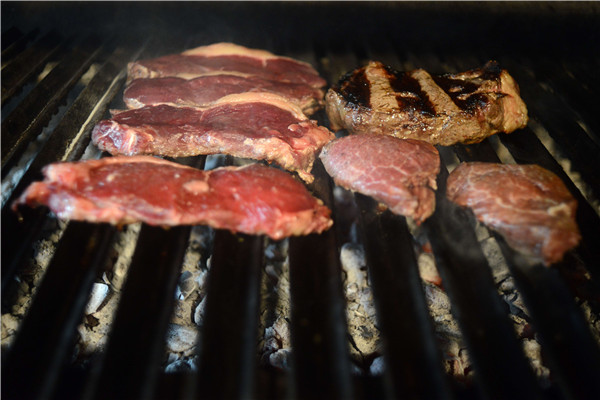 Sausages, ham and other processed meats cause bowel cancer, and red meat "probably" does too, a UN agency warned Monday, in a potentially heavy blow for the fast-growing livestock industry. [Photo/CFP]
"Apart from being good for health, eating less meat may help curb the global warming," said Huo Chenggui, director of livestock production research institute in Shandong Agriculture University, in a recent interview with lifetimes.com.
"Though 85 percent of the global warming gases come from industry, animal husbandry is also a big contributor because animals produce gases that are more damaging than carbon dioxide."
According to Huo, methane, the gas created from animal rumination, and nitric oxide, which volatizes from animal excrement, is 25 and 298 times more harmful respectively than carbon dioxide in causing global warming.
In a report issued by China's Ministry of Agriculture last June, China's annual meat consumption per person rose by 9.2 times in the last three decade, from less than 9 kilograms in 1978 to 64kg in 2015, which equals the weight of an adult sheep.
The number, if compared to the top three meat consumption countries in the world - New Zealand, Australia and the US, all of which consume around 120 kg per person per year - would seem rather moderate, yet with 1.35 billion people, China now consumes double the amount of meat than the US.
The revision of Dietary Guidelines for Chinese Residents issued in 2007 stated that for a grown-up, 125 to 200 animal-based food should be eaten on a daily basis, among which 50 to 100 grams should be meat.
If the annual meat consumption of average Chinese is divided by such amount, average meat consumption of the Chinese is now up to healthy standard. The fact that China's meat consumption is highly unbalanced, however, makes the problems more complicated.