DiCaprio's win gives boost to his Oscar dream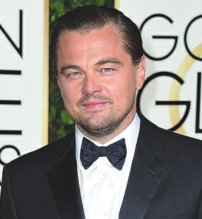 Leonardo DiCaprio at the 73nd annual Golden Globe Awards on Jan 10.[Photo/Agencies]
Leonardo DiCaprio has taken a leap forward in his quest for his first Oscar, with a Golden Globes win for his intense performance as a 19th century fur trapper in The Revenant.
All eyes in Hollywood are now on the Oscar nominations, to be announced on Thursday, to see if the Titanic star scores his fifth nomination for an acting role as widely expected.
The 41-year-old DiCaprio won for best actor in a drama at the star-studded Globes ceremony on Sunday that also saw The Revenant win for best director and best motion picture drama.
Pundits seem to agree that while the race for the Academy Awards on Feb 28 remains open in most categories, including for best picture, DiCaprio's quest for the golden statuette that has eluded him so far seems on track.
"I think DiCaprio looks like a slam dunk," says Scott Feinberg, awards columnist for trade magazine The Hollywood Reporter.
"I don't see him losing."
Feinberg explains that DiCaprio "has had the misfortune in the past of being great in years when other people were having their greatest year".
Indeed, the actor has lost out to some powerhouse actors in their prime: Matthew McConaughey for Dallas Buyers Club, Forest Whitaker for The Last King of Scotland, Jamie Foxx in Ray and Tommy Lee Jones in The Fugitive.
"But this year, it doesn't look like there is that one other person challenging him," Feinberg says.
The Globes win "puts a little wind behind his sails for the next round just because of the attention that he gets", he says.
Matt Damon could be his top rival at the moment-he took home the Golden Globe for best actor in a comedy for space blockbuster The Martian-the other big winner on Sunday, with a victory for best comedy film.
Feinberg points out that while there was unanimous agreement on DiCaprio's Oscar chances, the Globes could not be considered a bellwether for the Academy Awards overall, leaving the race wide open.
"There are only 82 people from the Hollywood Foreign Press Association voting for the Golden Globes while 6,200 vote for the Oscars, and all of them are associated with the actual making of film," Feinberg says.
Experts point out that neither of last year's Globes best picture winners-Boyhood and The Grand Budapest Hotel-ended up with an Oscar.
Instead, the Academy Award went to Birdman, directed by Alejandro Gonzalez Inarritu, who is also behind The Revenant.
"Really, it's impossible to call any film the pacesetter now," writes Glenn Whipp, a reporter with the Los Angeles Times.
Still, industry observers agree that the Globes can generate buzz for certain films-and thus influence voting among the members of the Academy of Motion Picture Arts and Sciences.