Chef's new restaurant delivers culinary choreography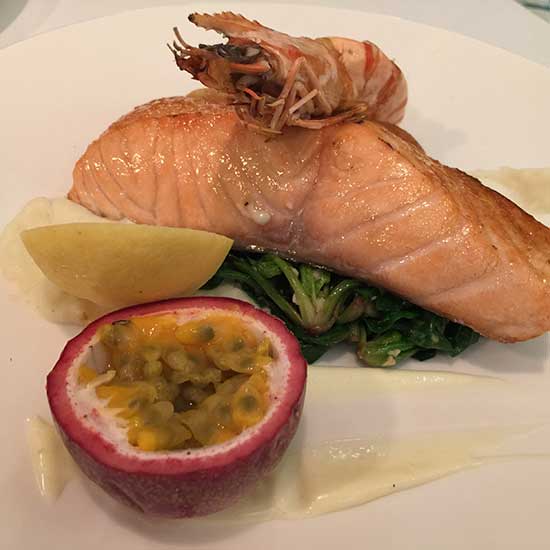 Australian beef and succulent salmon appeal to the eyes and the palates of diners at David Tao's new private dining room.[Photo by Mike Peters/China Daily]
Chef David Tao has done a lot of cooking in his 30-year life.
He studied cuisine in Germany and Austria - "Graz is like my second home," he says of the Austrian city famous for its perfume and its produce, adding (in Chinese) that he's more comfortable speaking German than English. Then the cooking school where he'd taken up further study in China sent him to Australia to train, where he wound up cooking for VIPs at the Australian Open and then at the 2006 Commonwealth Games in Melbourne, where he'll never forget dishing up for luminaries like Britain's Queen Elizabeth II and Prime Minister Tony Blair. Since then, the Beijing native has been back in the capital, first cooking in the Olympic Village at the 2008 Games before moving on to top-tier hotel restaurants in China.
After all those plates, he's shifting downgear - opening up his own private dining room in a converted corporate apartment and directing his picture-perfect plates to a maximum of about 40 people per night.
Wonder World Steakhouse is quite a small world, but there is wonder aplenty. For starters, it's charming, with decor that includes framed panels dotted with swarming button knots from qipao, the classic Chinese dresses.
We're immediately served warm and fragrant hibiscus-flower tea, and fresh-baked rolls arrive at table in a tiny pushcart centerpiece woven from straw. A series of amuse bouche is predictably a little precious, given his five-star past, but we love the succulent roasted scallop served in a flourish of dry ice, revealing a petite viola flower on top as the fog quickly dissipates.
Next his staff delivers two generous bowls of soup, creamy pumpkin that's lighter and more silken than any we've tasted before. That smoothness, Tao tells us later, can be credited to pumpkinseed oil (pressed in his own kitchen) and truffle oil.