Chef's new restaurant delivers culinary choreography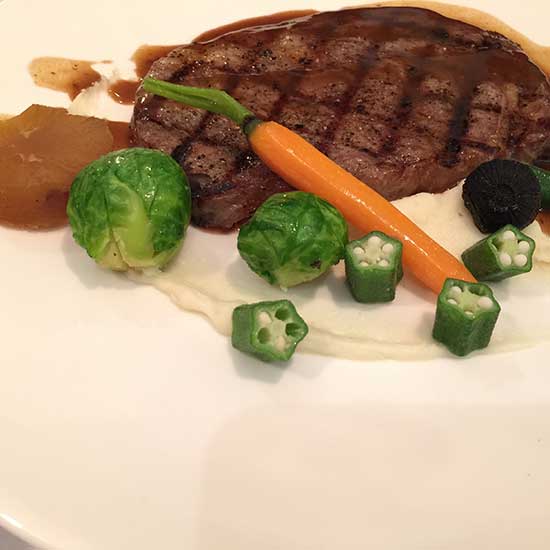 Australian beef and succulent salmon appeal to the eyes and the palates of diners at David Tao's new private dining room.[Photo by Mike Peters/China Daily]
Steaks - the ribeye and the tenderloin - seemed the obvious choice for mains, but Tao was most eloquent about his salmon offering. The plate arrives with a generous slab of the fish - very fresh under a light brown-sugar glaze. Dig right in, the chef urges, to get the full thermal complexity, and indeed there are hot, medium and cold layers, an effect that should be weird but is simply fascinating. Flaming with brandy to caramelize the glaze, he says, results in his moniker for the dish: Fire in Winter.
The Australian-beef steaks do not disappoint, though we are surprised that we prefer the perfectly executed tenderloin to the more flavorful rib-eye. Tonight the latter is well-marbled and tasty, but just chewy enough that it can't quite measure up to the tenderloin.
Tao's deft handling of the accompanying veggies, meanwhile, nearly upstages his excellent beef. The plate features a generous slice of a stewed vegetable that we think is daikon or a similar radish - until we take a bite. It's sweet and melt-in-your-mouth tender, and we learn that it's yacon, a tuber that is native to South America but thrives wherever potatoes can be grown. The yacon on our plates - with both steaks and the salmon - comes from Xinjiang, and Tao is quick to tout the vegetable's health benefits that have made it a favorite in many cuisines globally. High in fiber and low in calories, it's said to improve digestion and it's valued as an artificial sweetener for diabetics.
The plates' color comes from more veggie bites: Crisp slices of okra dance alongside the steaks like little green stars, with a smear of mashed potato, a couple of Brussels sprouts, a bright baby carrot and a mysterious black knob that turns out to be roasted black garlic, a sweet surprise Tao says his father eats every day to boost his health. We're tempted to do the same, if we can find his supplier, just because it's yummy.
The dessert platter is another picture begging to be taken: A delicate cheesecake with a flourish of chocolate squiggles, fresh fruit, cookies and shaped marshmallows on a skewer. Such combinations of art and flavor are likely to make a table hard to get soon at Wonder World.