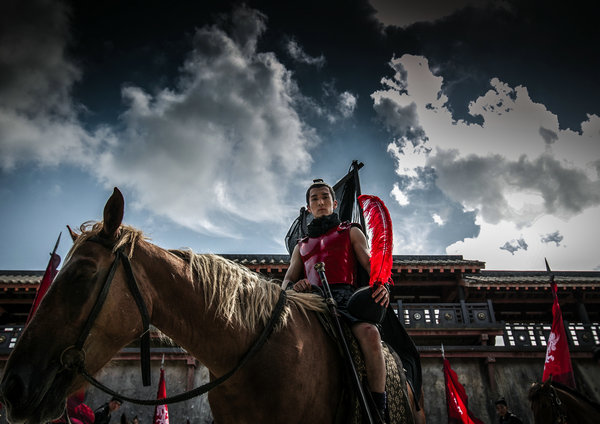 Scenes from Go Princess Go feature actor Sheng Yilun and actress Zhang Tian'ai in leading roles. The online series is a big hit among youth with more than 1.5 billion views as of Tuesday.[Photo provided to China Daily]
They are low-budget productions, have no stars and are typically adapted from online novels. Yet they are massively popular with the youth.
Go Princess Go, a small-budget online series without a star cast, has become a hit among young Chinese since it was broadcast on a streaming website in December, with daily "views" crossing more than 10 million.
The ongoing original series made by LeTV, one of China's biggest online video companies or China's version of Netflix, had been watched some 1.5 billion times as of Tuesday, ushering a new era for original programming by online video companies.
Adapted from an online novel, the 35-episode series is a comedy about how a modern playboy accidentally time-travels to a fictional dynasty and unexpectedly turns into a crown princess and then an Empress Dowager.
The series, which broadcasts one episode a day, has yet to conclude. The final episode will be released online on Saturday.
The series has been described as "addictive" by netizens because once viewers see an episode-about 20 to 30 minutes in length-they invariably start following the series.
The settings, props and costumes are so different from TV costume dramas that they have become hot topics for discussion on social media.
Data on Weibo, China's version of Twitter, shows that as of Tuesday, discussions on the series had attracted more than 2 billion clicks.
"It's very funny and light-hearted. All the actors are handsome. Many of my friends and classmates are fans. I will pay to watch it," says Feng Shanshan, 21, a student in Beijing.
Feng says her enjoyment also comes from sending out messages while watching it online. She feels that she can share comments with viewers across the country about the funny bits.
The series is so popular that many of its viewers, who are college students, complain online that it distracts them from their studies.
The rating of Go Princess Go on the film-review website Douban is much higher than another popular series, Legend of Miyue, which features well-known directors and popular stars.
But despite its huge popularity online, Jin Bo, a commentator, says on his WeChat account that it is a "lousy drama series because of its weak plot".
He says that the series is trying its best to cater to the "low-brow tastes" of its young audience, a common phenomenon in film and TV circles.
He says that high-quality films and TV dramas in China get little attention and earn poorly, as compared with such offerings which often earn big bucks.
The costumes for the series that have sparked discussions online are usually designed by the director based on Western collections launched in capitals of world fashion.