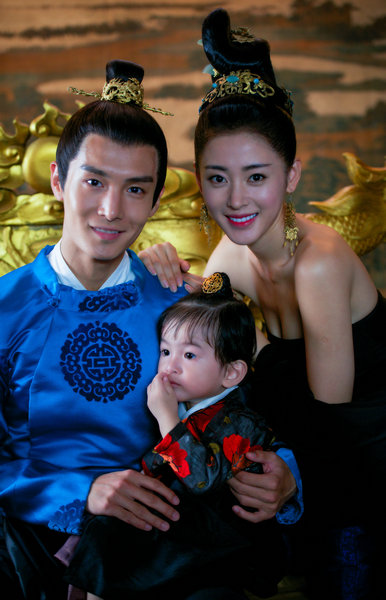 Scenes from Go Princess Go feature actor Sheng Yilun and actress Zhang Tian'ai in leading roles. The online series is a big hit among youth with more than 1.5 billion views as of Tuesday.[Photo provided to China Daily]
The brands include KTZ, Graig Green, Valentino, Jean Paul Gaultier and John Galliano.
"It's a series targeting those born in the 1990s and later. We did a lot of research and wove fresh and fashionable elements into it to appeal to the youth," says Gan Wei, executive producer of Go Princess Go. The actors and actresses are also young. The lead actor is 24, and the actress is 26.
Gan says that the huge popularity of the show among teenagers, college students and even office workers is beyond her expectation.
For a series where all the cast, from the director to the lead actors and actresses, are new faces, it is really hard to believe that it has won so many fans in such a short span of time.
Gan says the total investment in the series is about 20 million yuan ($3 million). It isn't a big budget when compared with its rivals.
The budget for one episode of the Lost Tomb, a popular series made by streaming website iQiyi, could be 6 million yuan, says Li Li, vice-president of LeTV.com.
Li says: "The popularity of Go Princess Go makes it a good time for original series made by streaming media. Next year, there will be more of this."
Li says that four years ago, LeTV started producing original programs. And last year, it provided different original series for daily and weekly broadcasts-about 500 episodes in total. This year, with the success of Go Princess Go, LeTV will allocate a larger portion of its funds to original programing.
Before Go Princess Go, major streaming media in China were already investing a lot in original series. And among those that achieved success were Diors Man (a comedy about a "loser's" daily life) and Lost Tomb (a tale about tomb raiders). The latter, which starred young actors, got about 2.8 billion clicks after it went online in July.
The number of new LeTV subscribers has increased since Go Princess Go went online, says Li.
Li says that the popularity of original series made by streaming companies did not happen overnight. Instead, it's a trend with roots in the growing years of the Internet as evident from the fan base of such programs. The majority of such fans were born in the Internet era and are used to doing everything online.
"For them, the line between reality and virtual life is blurred. They love to chat online and share views with others, also online," says Li, explaining why fans of Go Princess Go love it so much.