Salmon goes local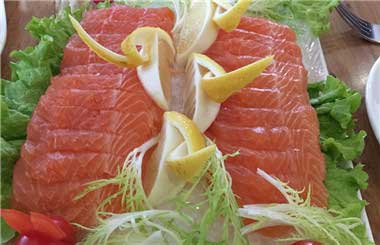 Salmon on China's best plates has usually been imported fish, usually from Norway, Japan or the US Pacific Northwest. Now Pinotage, Beijing's South African cuisine and wine restaurant in Sanlitun and Shunyi, offers this favorite of the health-conscious from a surprising source: China's southern region of Guizhou. A succulent fillet blackened on the grill runs 78 yuan, while a new ceviche plate studded with bits of tomato and green pepper is 48 yuan. A salmon cheese roll is also priced at 48 yuan.
The fish farm is several years old, and fish are raised in spring water and mountain runoff, by green-minded aquaculturists. The process, Pinotage owner Toby says, is as natural as possible but not certified organic. The resulting fish, now reaching the market as 4-year-olds, taste fresh and light, and Pinotage sevens them with some fresh-ground wasabi, surprisingly a little sweet, on the side.
Dongmen Building, 12 Dongzhimen Waidajie, (opposite the Qatar Embassy) Chaoyang district, Beijing. 010-5603-1945.
Chuanyi Yuan, 3A Shunhuang Lu, Shunyi district, Beijing. 010-8459 5868.