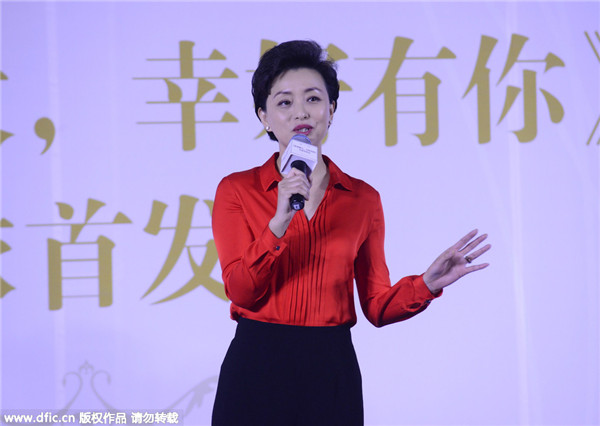 Yang Lan speaks at her book release conference. [Photo/IC]
Yang Lan, China's Olympic image ambassador and prime-time TV anchorwoman, released her new book, a prose collection entitled Still In Love, at a Hilton Hotel in Beijing yesterday.
"Still In Love is the second prose collection of mine, 20 years after the first came out. I have found that while I return to my beginner's mind, what I treasured most is always with me," Yang said in a Sina Weibo post this morning.
In this book, Yang talks about her marriage, her children and her family, sharing with readers what happiness is, in her understanding.
"If I draw a circle of life, the true self is the center and love is the radius. After what I've seen and experienced in this big, big world, I have finally come to realize how thankful I am to have my husband's company," Yang said.
This year marks the 20th anniversary of the anchorwoman's marriage to her husband, investor and media entrepreneur Bruno Wu. He's always been supportive, Yang said.
Based on her 20 years as a married woman, Yang said that felicity is not an act, but rather a habit, which can be cultivated.
"In the future, I am more aware of what I should treasure to create beautiful memories in an infinite life, and make them worthwhile," Yang said.
So far, Yang has published several books, including two prose collections, and a series of her TV program transcriptions of Yang Lan One on One and World Women.