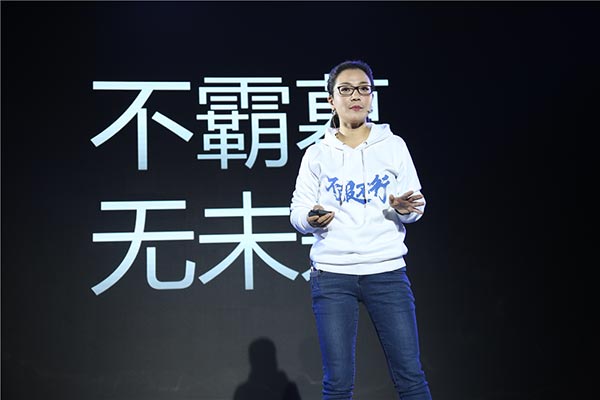 Huang Ziyan, vice-president of Le Vision Pictures. [Photo provided to China Daily]
Le Vision Pictures, the film arm of China's tech giant LeTV, recently announced its plans for 2016.
With an aim to lure viewers of all ages, the company said it would release or shoot 40 feature-length films and make 30 online TV series for its streaming website, letv.com. The list includes Zhang Yimou's fantasy epic "The Great Wall", Taiwan TV host Kevin Tsai's directorial debut "Chichi De Ai" (A Bite of Romance) and Guo Jingming's "Legend of Ravaging Dynasties".
The company would target different age groups with specific productions based on an analysis of its registered user base of 12 million on Letv.com. For example, "Boonie Bear III", the third installment of the highly successful franchise, is tailored for children between ages 3 and 12, a bracket that makes up around 14 percent of China's total population of nearly 1.4 billion.
Coming-of-age movies, such as "Mr High Heels, My Roommate", and "The Guard for School Babe", would be for those between ages 15 and 24, and for audiences in their 20s and 30s, it would be blockbusters such as "The Great Wall".
"Globalization will be the trend for Le Vision. We hope to have more speaking rights in international cooperation," said Huang Ziyan, vice-president of Le Vision Pictures.
Related:
Legend of Miyue smashes online viewing record