Media mogul Murdoch to marry Jerry Hall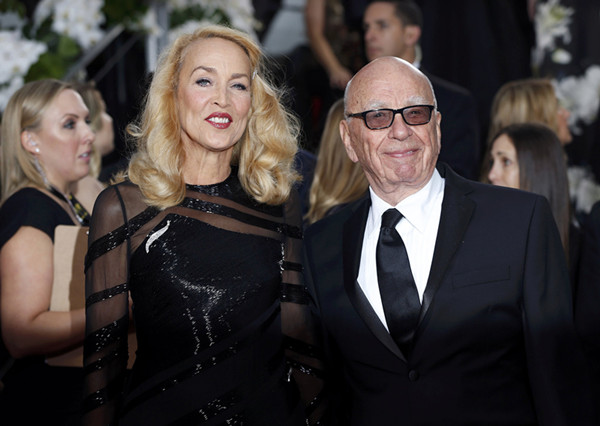 Former supermodel Jerry Hall and media magnate Rupert Murdoch arrive at the Golden Globe Awards in Beverly Hills, California, on Sunday. They announced their engagement on Tuesday.[Photo/Agencies]
Media mogul Rupert Murdoch has announced his engagement to Jerry Hall, the US actress and former supermodel who had a longtime relationship with rock star Mick Jagger.
Murdoch, 84, and Hall, 59, placed a classified ad on Monday in the births, marriages and deaths section of The Times newspaper, which is owned by Murdoch's News Corp.
Murdoch, the executive chairman of News Corp, and Hall have been dating since late summer after being introduced by one of Murdoch's sisters and his niece in his native Australia, The Times reported in a story posted online.
They made their relationship public in October, when they appeared together at the Rugby World Cup Final in London, and they got engaged last weekend while attending the Golden Globe awards in Los Angeles.
Between them, they have 10 children from previous marriages, several of whom went on vacation with them on a yacht in the Caribbean after Christmas.
"They have loved these past months together, are thrilled to be getting married and excited about their future," a spokesperson for the Murdoch family told The Times.
No date for their wedding has been given.
Murdoch has six children from his three previous marriages. He was married to Patricia Booker, an Australian, and then to Scottish-born journalist Anna Torv. He later married Chinese-born Wendi Deng, whom he divorced in 2013 after 14 years of marriage.
Hall, a Texas native, moved to Paris as a teenager to pursue a modeling career. She was one of the most photographed super models in the 1970s and dated Roxy Music's lead singer Bryan Ferry.
She entered a long-term relationship with Rolling Stones front man Jagger in the late 1970s.