A is for Austria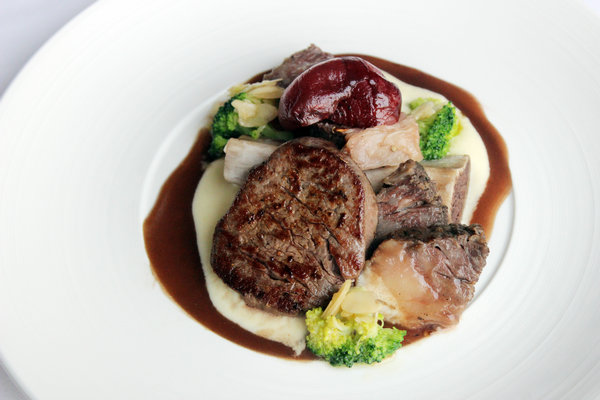 The kitchen takes quality ingredients-Australian beef, jumbo king prawn and scallop, proscuitto, mussels and potato gratin-and converts them into edible art.[Photo provided to China Daily]
Recent visits to Tafelspitz have seen the Beijing restaurant's upscale aspirations ride the waves of recent holidays. Roast goose for St. Martin's Day in early November. Chicken Breast Cordon Bleu for Christmas. Grilled Angus beef sirloin with potato gratin and brandy sauce for New Year's.
Such menu highlights, however, barely begin to explain the riddles of the capital's new Austrian temple of haute cuisine.
For starters, what does the word tafelspitz mean? It actually sounds pretty ordinary: boiled beef. That may sound like grub for a pub-something to whip up for the gang playing darts once they're too drunk to care. But saying Tafelspitz serves boiled beef is like saying Mozart wrote a few good tunes. The beef is tender and rich with flavor, top-dressed with shavings of carrot and leek, and underscored with a few notes of herbs and spices-a little symphony of simplicity. Pan-fried potatoes with bacon, bone marrow and a rich consomme complete the picture, flanked by tiny copper pots of addendums: pureed spinach, applesauce and some delicate but satisfying horseradish.
How Austrian cuisine landed in the Spanish-flavored enclave of Nali Patio is another mystery. There are other non-Latin food venues here, however, and Tafelspitz fits right in with fine-dining standouts like Mosto and Agua without stooping to parody like the now shuttered Parnas. It's no cheap date, though lunch set menus offer a good sampling for those of us not on expense accounts.