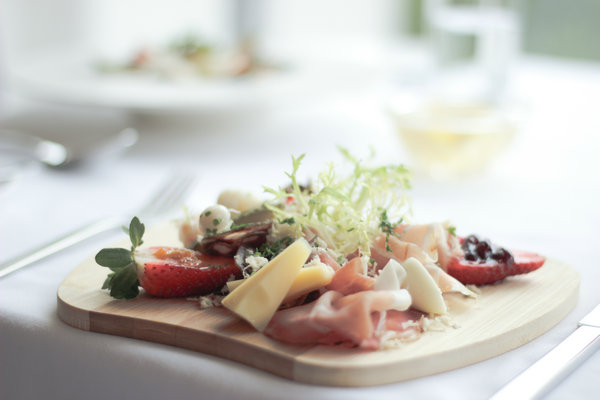 The kitchen takes quality ingredients-Australian beef, jumbo king prawn and scallop, proscuitto, mussels and potato gratin-and converts them into edible art.[Photo provided to China Daily]
At Tafelspitz, beef goes beyond the beautifully executed namesake dish. A boiled-beef carpaccio with quail egg and pickled mushroom was intriguing; that cold starter has evolved into a "new style" carpaccio, in which the shaved beef is presented with chanterelle mushrooms, mountain cheese and bitter-edged arugula, a definite hit at our table. In the sometimes-available beef tartare, the nibbles of spiced ground raw beef come with quail egg, garlic bread and nicely briny accountrements, gherkin, capers, onion and mushrooms.
You can't go wrong with the basics here: roast pork tenderloin with polenta, porcini essence with griessknockerl (semolina dumpling) or the schlutzkrapfen, bright green Austrian-style ravioli bursting with cheese.
Overall, the decor is Spartan-chic: parquet floors, white tablecloths, gray accents, Egon Schiele prints. Lampersberger's genial hosting keeps the elegant formality from turning frigid, and the pleasant staff has shed some of the buttoned-up jitteriness that made service in the early days a little too attentive. Another solid sign of serious hospitality training: Our waiters are well-versed on the all-Austrian wine list, where you'll find some stellar and unusual whites and an occasional surprising red.