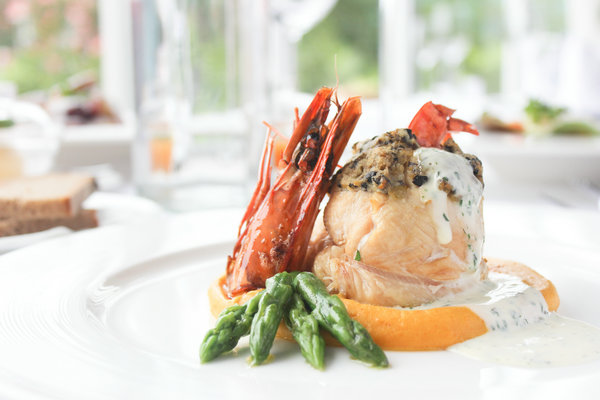 The kitchen takes quality ingredients-Australian beef, jumbo king prawn and scallop, proscuitto, mussels and potato gratin-and converts them into edible art.[Photo provided to China Daily]
Chef Alfred Krasser's many gifts include an astute way with bacon. I know what you're thinking: Any fool with an apron can make food taste better by adding bacon. Krassner's touch is delicate to the point of near-invisibility (this may be why Europeans call bacon "speck"). Bacon also breathes a layer of yumminess into a celery-cream soup we'd almost skipped.
Similarly, the flavors of a holiday-season pork neck with cumin and garlic hit diners like a fugue, not a fist.
Subtlety may be what sets the cuisine of Austria apart from Germany's. At least as it's practiced abroad, German cuisine tends to be boisterous: lots of oom-pah and sausage, a year-round Oktoberfest that just comes with better music and special beer when the calendar agrees it's October. Austrians, with a very parallel culture, are less in your face about it. Instead of fighting the urge to pull on some lederhosen and dance, diners at Tafelspitz will suddenly realize they've been nodding gently to the strains of The Blue Danube, another cultural icon but so discreet that it avoids being a cliche.
"The cuisine is a style of cuisine native to Austria and composed of influences from throughout the former Austro-Hungarian Empire," says partner and front man Walter Lampersberger. "Regional influences from Italy, Hungary, Bohemia, Germany and the Balkans have had a profound effect," he adds, so although the country's food is most often associated with Vienna, a fusion of styles has greatly shaped what Austrian cuisine is today.