Top Italian brand seeks to weave its magic in local market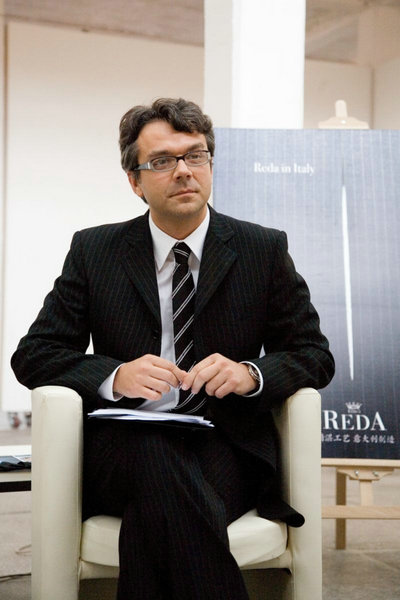 Fabrizio Alessandro Goggi, global communications director for Reda, an Italian fabric brand that displays its 2017 winter collection in Beijing.[Photo provided to China Daily]
If fashion weeks point to trends for the next season, then fabric makers point even further.
Italian premium fabric brand Reda recently showed its 2017 winter collection in Beijing.
Inspired by the Edwardian age, the Bloomsbury Group and the paintings of Spanish master Diego Velazquez, the collection infuses freshness into the classic DNA of the brand.
The main tones of green, brown and gray are mixed with brighter hues of blue and pink for a more dynamic effect.
Founded in 1865, Reda has been providing fabrics for brands like Armani, Ermenegildo Zegna and Dolce & Gabbana. But it is now finding fans among Chinese designers and manufacturers who are looking for classic made-in-Italy fabrics with fancy elements, says Fabrizio Alessandro Goggi, the company's global communications director.
"Young designers and Chinese fashion are really trendy. They need something soft and classic to be the sustainable base for their creations," he says.
Still, quality always comes first as the brand believes that fabric is a "stage" for the designers to perform on.
"What they are looking for is something they can rely on. As their creations are sometimes really extravagant or even crazy, they need solid fabric in order to create what they want. And only fabrics of good quality can work," says Goggi.
The brand worked with emerging Chinese designer Xander Zhou a few years ago, using his avant-garde style.
"This was just the beginning. Next year we would like to find someone else who can express not only the quality of the fabric but also his (or her) own ideas," says Goggi.