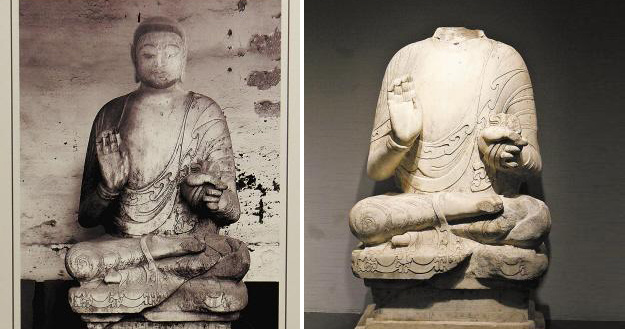 The original form of the Buddhist sculpture (left) and its current aspect(right).[photo from internet]
An ancient Buddhist sculpture will be reunited with its head more than a decade and a half after it was stolen.
The headless statue, housed in a museum in north China's Hebei Province, is being prepared for its journey to Kaohsiung city in Taiwan later this month where it will be pieced back together during a Cross-Straits exhibition.
The sculpture, made of white marble, dates back to the North Qi (550-557) of South and North Dynasties. It was originally worshipped in Youju Temple in Lingshou County, Hebei, where the Buddha's head was stolen in 1996. The body, which is 1.59 meters tall, was later sent to the Hebei provincial museum for protection.
The 80 kg head was presented to Master Hsing Yun, founding abbot of Fo Guang Shan Temple in Kaohsiung, by a private collector last year. After the abbot discovered its history, he voluntarily contacted the State Administration of Cultural Heritage to return the relic.
The Taiwan Affairs Office of the State Council approved the body be sent to Kaohsiung for a three-month Buddhist Cultural Relic Exhibition jointly held by the administration and the Fo Guang Shan Buddha Memorial Hall, before the entire statue is sent back to Hebei.
Luo Xiangjun, director of the museum, said repairs will be made on the sculpture before it is put on public display in 2016.
In addition to the sculpture, the museum has selected 77 relics for the exhibition in Taiwan.