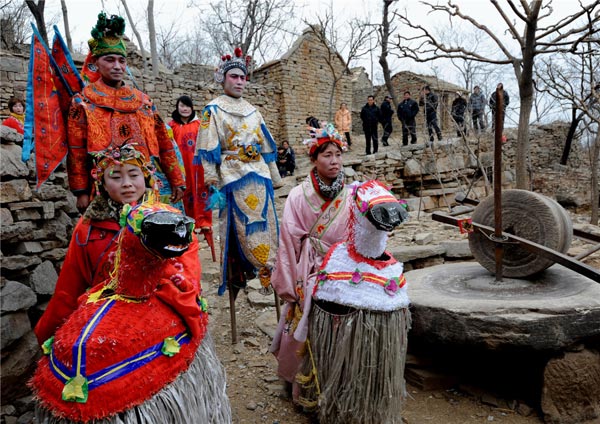 Folk artists perform bamboo horse and stilts show for villagers in Xinglongzhuang village, Zaozhuang city, East China's Shandong province, Jan 28, 2012. [Photo by Li Zongxian/Asianewsphoto]
Government and public actions
"Traditional villages are not protected enough because doing so does not generate immediate benefits. To change this, we must link protection (of traditional villages) with returns, be it fame, money or emotional satisfaction," said He.
Aside from the lack of policies and technologies, Luo believes the key lies in the lack of drive in China's attitude towards preservation of traditional villages because the public cannot relate themselves to these living relics.
"We should learn from other countries and regions and create more emotional links between traditional villages and the wider public. If the concept is there, technology and funding will naturally follow," Luo said.
Finding a balance between protection and development, in particular its economic future is the key," added He.
As a medium that carried and passed on Chinese civilization and culture, traditional villages are the reflection of the essence of how Chinese people lived throughout the years.
China loses a part of its culture, landscape, architecture, tangible and intangible heritage, and history from agricultural times with each disappearing traditional village. It is not difficult to imagine the price we must pay if these villages totally vanish.
"Traditional villages are the soil of Chinese culture, and it is on this soil that ancient architectures live and breathe," said He.
Preserving and protecting ancient architecture and traditional villages is arduous work, but it is without a doubt a necessary task.
Related:
Traditional villages: Home of Chinese culture