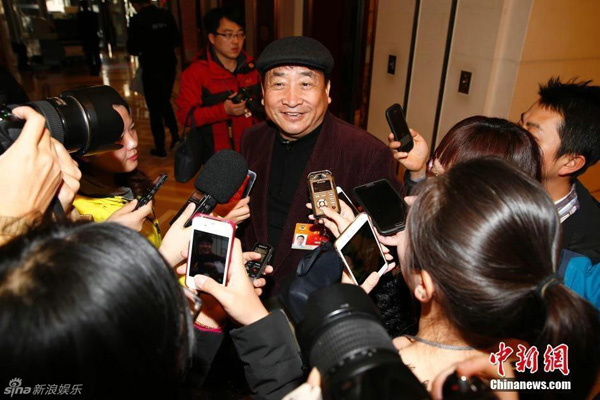 Jiang Kun, Chinese cross-talk artist presented on the opening day of the third session of the 12th National People's Congress in Beijing. He stressed the importance of passing on art forms to the next generation. [Photo/chinanews.com]
This year, the first meeting of the NPC falls on March 5, coinciding with the Lantern Festival. Even as millions of Chinese celebrate this traditional festival, members and representatives of the NPC and CPPCC are considering how to advance the inheritance and development of traditional culture in modern China.
In the Government Work Report, Premier Li Keqiang points out that culture is the spiritual gene and the source of innovation for a nation, and the maintenance of historical relics and ethnic minorities, protection of ancient villages and intangible cultural heritages will be given more prominence on the government agenda.
Keeping traditional culture alive in China
Feng Jicai, famed writer, heritage protection activist and member of the national committee of CPPCC talked about his concerns about dying cultural heritage. Feng called for the strict implementation of related laws.
Feng is not alone in stressing this. Jiang Kun, cross-talk artist, who attached inheritance of traditional culture to education. It is the third year that he has presented proposals for courses about traditional art and performances in schools. Many members gave positive responses to his proposal.
"Traditional festivals like the Double Ninth Festival and Lantern Festival should be legislated as national festivals, which is beneficial for boosting folk culture and spiritual civilization," said Zhang Lihui, dean of the music department at Chongqing Normal University.
According to statistics, 10 billion yuan has been budgeted to fund the protection of ancient villages and intangible cultural heritage. Cultural industries like derivatives sold at museums and the new fashion of Chinese traditional costume are growing rapidly in mainland China.