The much anticipated sessions of China's National People's Congress (NPC) and Chinese People's Political Consultative Conference (CPPCC) are underway in Beijing and not only is politics a major issue, but so is culture, and it is being hotly debated by artists and other people directly involved in it. So, let's hear what some of these important people have to say about the development and direction of culture.
Feng Jicai, prominent writer, heritage campaigner and CPPCC member, said China needs to learn more from Japan and South Korea in the area of culture protection.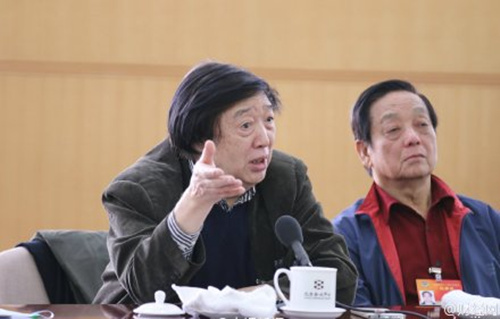 Feng Jicai, famed writer, heritage campaigner and CPPCC member[Photo/CCTV]
"I admire Japan and Korea in the way they treat their traditions and culture and see it as valuable as life. Just look at us, what's our cultural policy? And what's our government's attitude toward culture? No need to be surprised that other countries have applied for (UNESCO) cultural heritage status for the (our) Dragon Boat Festival. They started thinking about it as early as back in the '70s."