Spring Festival draws big crowds to landmarks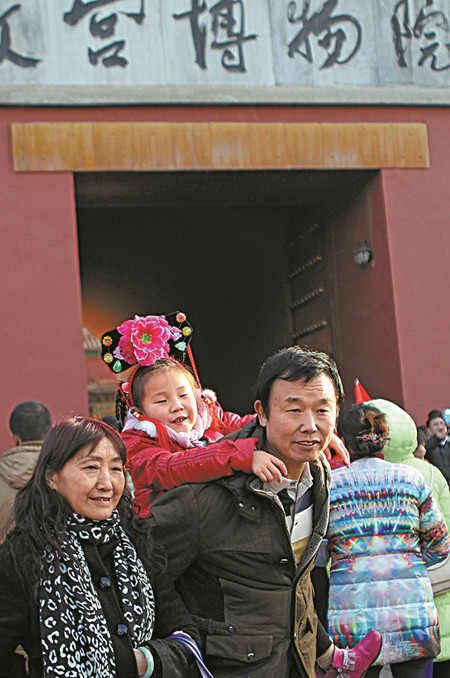 A family joins the throng of around 50,000 people who visited the Palace Museum on Sunday morning. Zou Hong/China Daily
Village where Xi worked as a youth joins traditional Beijing tourist attractions
Liangjiahe, a village in Shaanxi province where President Xi Jinping spent seven years as a rural laborer, became a popular Spring Festival tourist destination after Xi and first lady Peng Liyuan paid a visit ahead of this year's holiday.
A small community hidden among the valleys of the Loess Plateau in Yanchuan county, Liangjiahe was put under the spotlight when Xi rose to China's leadership in 2012. Xi has talked on several occasions about how he benefited from his experiences working there.
Forty-seven years ago, Xi, a teenager at the time, went to the village in reponse to a campaign by Chairman Mao Zedong asking urban youth to experience rural labor life.
Because of the connection, more than 100,000 people from many parts of China have visited the village annually, Shi Yuxing, a staff member at the local museum, told China News Service. Thanks to the first couple's visit earlier this month, tourism boomed during the holiday.
Meanwhile, traditional tourist attractions, such as the Forbidden City and the Temple of Heaven in Beijing, remain popular. More than 50,000 visitors thronged the Forbidden City on the morning of Feb 22.
At the Temple of Heaven, huge crowds have kept a modern-day "emperor" busy.
Zhong Jixian, 31, has been playing the role of emperor during Spring Festival for six years. The 1.9-meter-tall actor and caretaker from Beijing performed 10 ceremonies during the first five days of the Spring Festival holiday at the temple's altar, where sacrifices were once offered to the God of Heaven, Beijing Morning Post reported.
Zhong's regular job is caring for the old trees at the Temple of Heaven, but he transforms himself into an emperor every spring.
He takes the role seriously. Besides dressing like royalty, Zhong said he has to concentrate on many other details — most important, having respect to the God of Heaven from within. He said he lost weight, around 3 kilograms, when he first took the throne.
As the father of a two-month-old boy, the man who would be emperor now must kneel before his son to change his diaper before kneeling to the God of Heaven, he said.
Located in southern Beijing, the Temple of Heaven has been one of the city's most revered places for more than five centuries, serving the real emperors of the Ming Dynasty (1368-1644) and the Qing Dynasty (1644-1911). It is the largest of several royal altars in the city — to heaven, earth, sun, moon and various deities or symbolic forces of nature.