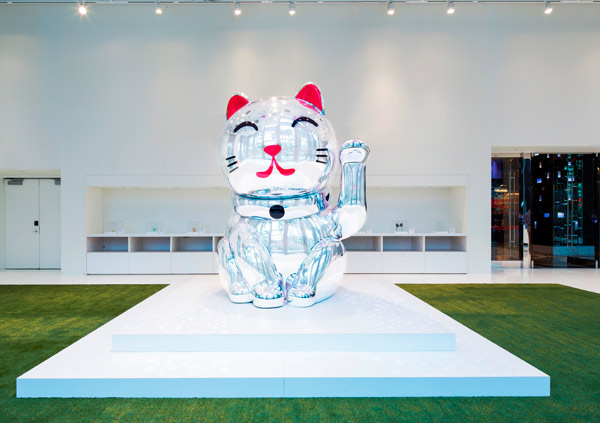 A nine-foot Lucky Cat art exhibit will be on display in a pop-up space off the Las Vegas Strip, put together by the Cosmopolitan Las Vegas hotel as part of its Lunar New Year festivities. Provided to China Daily
Las Vegas, an increasingly attractive hub for Chinese investment, will be rolling out Lunar New Year celebrations for the Year of the Ram as its casinos and hotels prepare for an increase in Chinese visitors during the new year.
The Cosmopolitan Las Vegas will be displaying a new Chinese-themed exhibit called the Lucky Cat, a 9-foot tall structure based on the icon of good fortune. Located on the Las Vegas Strip, the cat dispenses a fortune card for those who place their hand on the paw, and will be on display daily. At the China Poblano restaurant within the hotel, Chinese classic dishes and specialty cocktails will be available on the menu from Feb 19 through March 5.
The Palazzo, a luxury hotel and casino resort, will be displaying a Lunar New Year-related exhibit of its own. Its floral and horticulture team worked together with a feng shui master to put together a 2,400-piece floral art installation.
"Chinese New Year is a special event to our guests. Constructing and designing something that is authentic was important," said Dana Beatty, director of floral and horticulture for The Venetian and The Palazzo. "We worked with a feng shui master to ensure our installation brings luck to the resort and our visitors."
Since opening up resorts in Asia, Las Vegas Sands, which owns The Palazzo and The Venetian, said its brands have been exposed to an entirely new audience. "Since then, The Venetian and The Palazzo in Las Vegas have used this expertise in Asia to ensure we are properly programming to our Asian guests," according to Keith Salwoski, spokesman for the two resorts.
To cater to the Chinese tourist, the resorts have introduced Chinese-specific dining options for guests and have booked entertainment options keeping the Chinese tourist in mind. Hong Kong singer-songwriter G.E.M. will be performing at the Venetian Ballroom on Feb 21 for the new year. Last year, the Palazzo Showroom debuted PANDA!, the first Chinese theatrical production to take up residency in Las Vegas. The acrobatic show debuted in January, and performance dates were extended to July that year due to popular demand.
Las Vegas has seen a steady increase in Chinese visitors in the last half decade, as the city's hospitality and tourism industry aggressively courted Chinese gamblers and tourists in the midst of falling domestic visitor levels.
In 2010, Sin City saw a 38 percent increase in Chinese tourists compared with the year prior, 27 percent in 2011, 40 percent in 2012, and 14 percent in 2013. Chinese visitation to the city has grown more than from any other country, according to Jenelle Jacks, a spokeswoman for the Las Vegas Convention and Visitors Authority, the official tourism bureau for Las Vegas.
"Most Chinese travelers who visit the Western US tend to visit the Grand Canyon and consider Las Vegas the 'gateway to the Grand Canyon,' " Jacks told China Daily. "In addition, Chinese visitors enjoy Las Vegas' world-class entertainment, shopping and dining.."
amyhe@chinadailyusa.com
Click here to share your Chinese New Year Stories to win a smartphone!