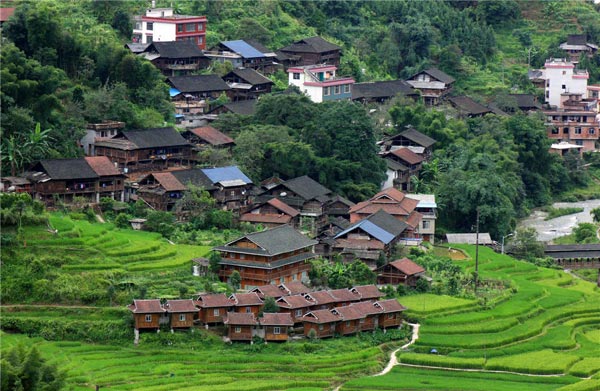 Photo taken on Aug 13, 2014, shows the beautiful scenery of Dongtian village of Miao ethnic group in Rongshui Miao autonomous county in Liuzhou, South China's Guangxi Zhuang autonomous region. [Photo by Long Linzhi/Asianewsphoto]
"We have a lot of traditional villages in China, but they are severely damaged," said Luo Deyin, an associate professor at Tsinghua University who specializes in studying traditional villages and rural architecture.
According to the Traditional Village Protection and Development Research Center, in merely a decade, from 2000 to 2010, China lost over 900,000 natural villages.
It is within these severely damaged villages that most of China's ancient architecture can be found, said He Wei, a famous Chinese architect and artist.
Ancient architecture carries the weight of history. To preserve it is to protect the culture of a nation and that of human civilization.
Yet, China is not doing a very good job.
Value of ancient architecture
"Consider the past, and you shall know the future." This is an old Chinese saying that urges us to learn about yesterday to better understand tomorrow.
Architecture, just like any other valuable relics from the past, have witnessed the changes throughout China's history.
When they are left unattended in traditional villages, unlike those in more developed cities that are regularly cared for by professionals, it is not hard to imagine the degree of degradation they undergo.
Aside from losing valuable historical data, to some, ancient villages should be preserved and protected because they preserve relevant solutions to certain challenges.
"Many of the problems we are troubled with today were also present in ancient times, and our ancestors solved them with a series of controllable measures. Some of these measures are still applied today, so what's ancient doesn't contradict with what's modern," said Zhang Zhili, a post doctorate at Tsinghua University who specializes in city and town planning.
Others agree on finding modernity in ancient architecture.
"We should focus more on giving 'life' to ancient architecture and let history enter the modern world. We should extract meaningful information and elements from the past, translate and convert them into today's language and use them on new designs," said He.