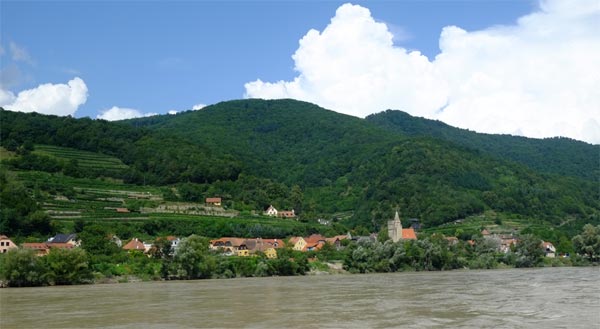 Wachau Valley in Austria. [Photo by Wang Yifan / Provided to chinadaily.com.cn]
Austria: Finding commercial return from preservation
He Wei, associate professor at the Central Academy of Fine Art, said traditional villages in China are not protected enough because doing so does not generate immediate benefits.
"To change this, we must link protection (of traditional villages) with returns, be it fame, money or emotional satisfaction."
In Wang's opinion, villages in Wachau Valley in Austria are setting a good example.
"Many cultural landscapes in Europe are characterized by vineyard terraces and sparse towns and villages found in between. These regions have kept the tradition of planting grapes and making wine," said Wang.
These high-quality wines are branded and sold to consumers and tourists from around the world and generate considerable revenue for the villages. With the demand of wine comes the self-driven desire to preserve and protect the cultural landscape, wine-breeding technology and consequently the villages themselves.
Tailored mode of development is also a key to protecting traditional villages that are diverse in nature.
"In the valleys near Danube (the longest river in the European Union), I saw the different outlook and characters of different villages and townships. Some incorporated new industries on the basis of the existing foundation, such as cultural exhibition function," said Wang.