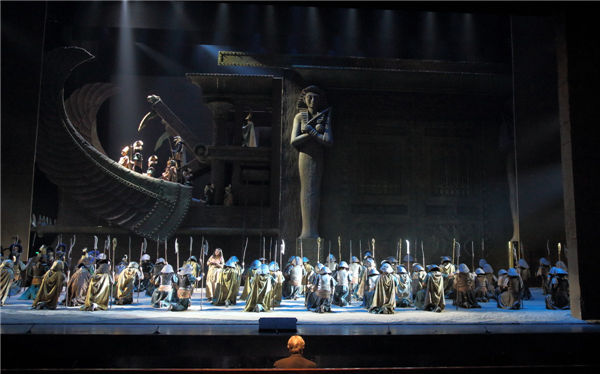 He Hui plays Aida at the National Center for the Performing Arts in Beijing. Photos by Jiang Dong/China Daily
He Hui is opera's reigning Aida. She sang it 16 years ago in China when she was 26, and now she brings it back to her home country after a world of triumphant performances, reports Raymond Zhou.
China's most successful opera star does not really care if she is known to many people. If you are an opera lover, you'll know He Hui is in town. And you'll not miss it, especially when she is to sing Aida.
He Hui, a native of Xi'an, is the Aida of her generation. She almost owns this role on the world's grandest stages.
"People overseas say to me, 'You must be a household name in China.' And I reply, 'Far from it'," she says during a recent rehearsal at the National Center for the Performing Arts in Beijing. She never appears in televised variety shows in her home country, a channel through which most Chinese entertainers and performing artists build their names to the general public.
"Western opera is an art form for a relative minority," she says philosophically. "We do not measure our achievements with this kind of appearances."
The fact she is palpably proud of is 131, the number of times she has sung Aida all across the world, including New York's Metropolitan Opera. Two of her performances, one in Florence and one in Verona, were taped and are distributed via DVD. The one in Verona is even a 3-D version to boot.
Coincidentally, He Hui (billed as Hui He in the West, with her last and first names reversed as with Western custom) sang her very first Aida in her own country. "That was in 1998 and that opera opened the brand-new Shanghai Grand Theater."
That was also before she won Placido Domingo's Operalia in 2000 and a Verdi competition in Italy in 2002, which catapulted her onto the fast track of the international stage. On previous occasions, she had complained that singing contests in China were opaque and she often failed to get into the final round. (She did win second place in the 2002 CCTV singing contest for young artists, though.)