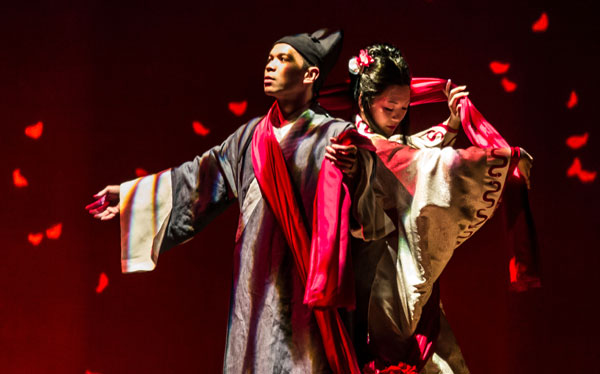 A scene from Mary Zimmerman's White Snake. [Photo provided to China Daily]
Chinese theater reaches a narrower audience compared with the country's cinema, but it is no less vibrant and chaotic, as Raymond Zhou discovers in a bid to chronicle it.
Chinese theater has seen uneven development in recent decades as live performances are concentrated in bigger cities and touring companies disappear from small towns and rural areas.
This isn't unique because even the far more popular entertainment-movies shown in theaters-has vanished from a large swath of the Chinese population that derives now its main recreation from TV.
Just like the film industry, theater is experiencing a top-down boom that starts from the biggest metropolises-with one exception. The Wuzhen Theater Festival, in its second year, has firmly established itself as a showcase of theatrical art in its most diverse and compelling forms.
Although just an hour's drive from Shanghai, it has the feel and advantage of Cannes or Sundance in that it attracts top talents in the field and a legion of loyal theatergoers.
A joke went around that if a bomb were to drop on Wuzhen during the 11-day event, Chinese theater as an industry would be wiped out. To which a contrarian view soon emerged: If that happened, Chinese theater as an art form would be saved. Obviously, it came from a cynic who didn't believe in turning the art into a carnival-like activity.